North Korea fired a ballistic missile from a submarine, the South Korean military has said. The launch reportedly took place in the Sea of Japan off Sinpo, South Hamgyong Province.
North Korea is currently banned from firing ballistic missiles by the United Nations (UN). However the regime has repeatedly threatened to launch a nuclear attack on its neighbour and Western targets – threats which intensified in recent days as the South and US began joint military exercises in the region.
The test on Wednesday (24 August) was an apparent protest against the start of annual South Korea-US military drills, the Associated Press (AP) reported. A military statement from South Korea said it considers the launch an "armed protest" against the military exercises and a challenge to peace on the Korean peninsula.
A North Korean military spokesman warned that if the South and US demonstrated any aggression towards the secretive state, it would retaliate by turning "the stronghold of provocation into a heap of ashes through Korean-style pre-emptive nuclear strike."
The spokesman warned the regime led by Kim Jong-un was "ready to mount a pre-emptive retaliatory strike at all enemy attack groups involved in Ulchi Freedom Guardian," CNN reported.
The Korean Peninsula is the most militarised on earth, and the two states never formally ended the conflict, which took place over 60 years ago.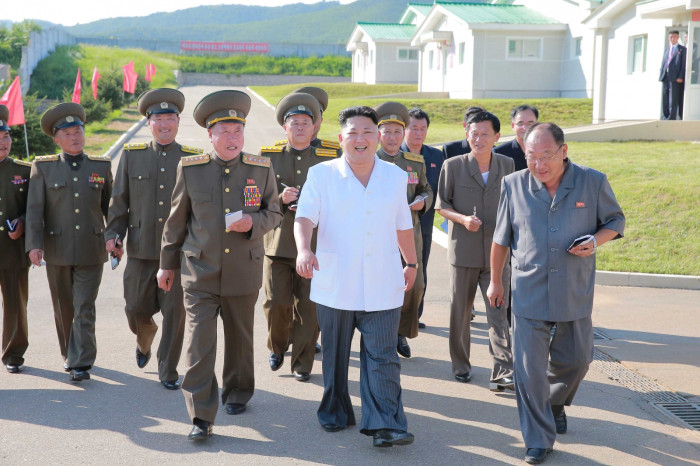 In that time, South Korea has become a prosperous democracy while the North has crushed dissidents and seen its citizens endure grinding poverty, starvation and a lack of basic freedoms.
North Korea has conducted an estimated four nuclear tests and has boasted of developing a hydrogen bomb, a claim that has not been taken seriously by Western observers.
However, North Korea's claims that it has managed to build nuclear warheads small enough to be attached to inter ballistic missiles capable of reaching the US have been treated seriously, as have videos portraying Washington as a pile of ashes. The regime is also furious that London-based diplomat Thae Yong-ho defected earlier this month.