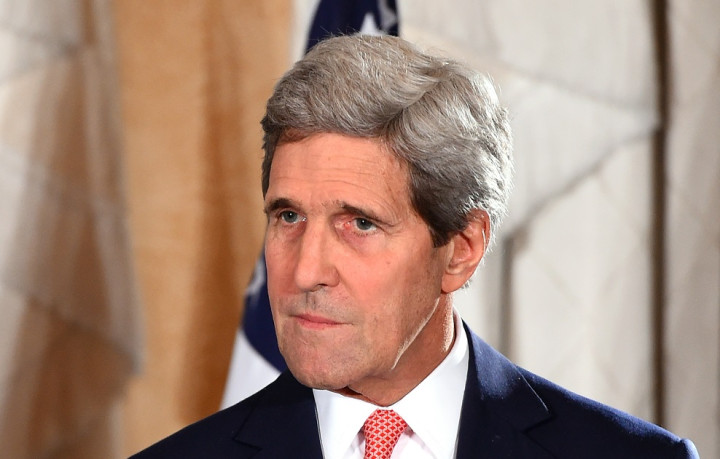 North Korea has called US Secretary of State John Kerry a wild dog with a "hideous lantern jaw" in its latest personal attack on a prominent official.
The slur from the National Defense Commission, the North's top governing body, was reported on Wednesday and is the most recent in a slew of crude insults against US leaders.
The North's state media has previously called President Barack Obama "a monkey" and in April, it labelled South Korean President Park Geun-hye a "crafty prostitute".
The commission's policy department accused Kerry of playing a "childish masque," in reference to his recent warnings to the communist nation coupled with peace overtures.
An unidentified commission official described Kerry as a "wolf donning the mask of sheep" who plays a role in US plans to invade North Korea, according to an English-language statement carried by the North's state-run Korean Central News Agency.
They also condemned the secretary's congratulatory message for Korea last week on the 69th anniversary of its liberation from Japan's colonisation.
Liberation Day is also the day when "shame and tragedy of national division began due to the US imperialist aggressors," the department stated.
"However, Kerry 'congratulated' the Koreans on this seven decade-long history of shame and tragedy," it added. "Can there be more unbearable mockery and insult to the Korean nation than this?"
The official also criticised Kerry's comments on North Korea's human rights record and weapons programmes.
This month, it was reported that North Korea would publish its own "rosy" human rights record, six months after a United Nations inquiry published a list of violations so severe as to amount to crimes against humanity.
The state is frequently listed among the world's worst human rights offenders by UN agencies, watchdogs and governments, yet the North's Association for Human Rights Studies defended their record against the "lies and fabrications" from "hostile forces".
South Korean activists frequently use images depicting North Korean leader Kim Jong Un as a pig in anti-Pyongyang rallies.