North Korean defectors took to the streets in Seoul, South Korea, on Friday (8 September) to protest against the Kim Jong-un regime amid escalated tensions in the peninsula following Pyongyang's biggest nuclear test.
About 30 protesters, including the defectors, gathered in downtown Seoul and chanted anti-North Korea slogans. Some also slashed a banner featuring a photograph of the rogue North Korean leader, Kim Jong-un.
One of the banners read: "Eliminate Kim Jong-un, the Nuke-lunatic and liberate North Korean compatriots!"
Another one read: "We decided to enter the war against North Korea!"
Park Sang-hak, one of the protesters, said the rally was organised to condemn the series of nuclear and missile tests by Kim. He added that he and other defectors were even willing to sacrifice themselves to "eliminate" Kim.
"If North Korea threats the international society and Republic of Korea with its sixth, seventh nuclear tests and their intercontinental ballistic missile (ICBM) again, we are willing to sacrifice ourselves to eliminate Kim Jong Un. He should know we will start with an action. We warn Kim Jong Un," Reuters TV cited Park as saying.
According to the news agency, some of the protesters even carried pictures of US President Donald Trump and Vice President Mike Pence, along with words written on it that said: "Make America great again by one free Korea".
The isolated country claimed it successfully tested an advanced hydrogen bomb on 3 September, which triggered a 6.3 magnitude earthquake. The test was believed to be 10 times more powerful than the country's last test in September 2016, raising the stakes in its nuclear stand-off with the US.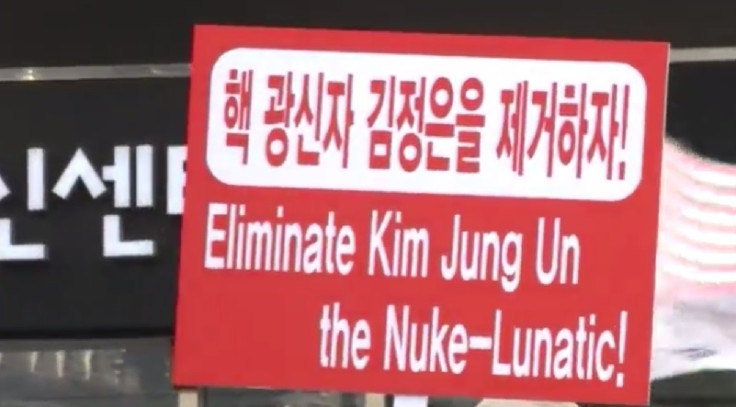 Meanwhile, a survey released on Friday showed that South Koreans are little worried about possible war by the rival Korean.
A finding by Gallup Korea revealed that South Korean were increasingly doubtful about war compared to how they felt in June 2007 – nine months after Pyongyang conducted its first nuclear test.
It found that 58% of the interviewees felt there was no possibility Kim would cause a war, whereas in a 20017 survey 51% of respondents had said they expected a war.
The survey and the protests by North Korea defectors come as Trump once again highlighted of possible military action to rein in the belligerent Kim regime.
The Republican said he would not use military action, but if he did, it would be "very said day" for Pyongyang.
"Military action would certainly be an option. Is it inevitable? Nothing is inevitable," Trump said on Thursday. "If we do use it on North Korea, it will be a very sad day for North Korea."