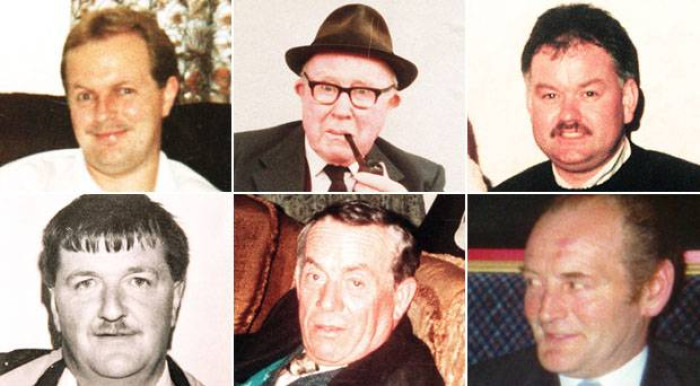 Northern Ireland's police ombudsman has concluded there was collusion between hitmen who killed six random Catholics as they watched a football match on TV in 1994 and the police service at the time.
No one has ever been convicted in connection with the attack, which took place at the Heights Bar in Loughinisland, County Down where patrons watched a World Cup match between Ireland and Italy on television on 18 June 1994.
The attack was carried out by two members of the Ulster Volunteer Force (UVF), which the terror group said was in "retaliation" for the killing of three senior UVF commanders on Belfast's Shankill Road two days earlier.
The six who died were Adrian Rogan, 34, Malcolm Jenkinson, 53, Barney Green, 87, Daniel McCreanor, 59, Patrick O'Hare, 35, and Eamon Byrne, 39. Five others were wounded.
The UVF claimed there was an IRA meeting taking place at the pub but this was a lie: all those who died were innocent Catholics. The gunmen were seen driving away laughing. Even though Northern Ireland was no stranger to such acts during "The Troubles" the so-called "World Cup Massacre" caused revulsion around the world.
Key findings of the Police Ombudsman's 160-page report include:
Police knew suspects' names within 24 hours of the shooting but delayed arrests
Police did not probe allegations that an officer warned suspects that they were to be arrested
An initial suspect was an

Royal Ulster Constabulary (RUC)

informant
Police did not follow-up inquiries into the getaway car used by the killers, which had been bought by a prominent member of the loyalist UDA
There were many examples of failures to pass on intelligence to investigators.
The word "collusion" has special significance in Northern Ireland, where both Republicans and Loyalists were accused of colluding with the now-disbanded RUC, British forces, and - in the case of the Provisionals - Irish Garda during the 30-year "Troubles" in which 3,600 died.
However police ombudsman, Michael Maguire, said: "I have no hesitation in saying collusion was a significant feature of the Loughinisland murders."
At a press conference at Belfast's Ramada Hotel Emma Rogan, whose father Adrian was among those killed, was quoted by the Belfast Telegraph as saying: "Today is one of mixed emotions. I'm thinking of my daddy and all those others who died.
This report has vindicated our long-held suspicions. Our journey has been a very difficult one and we have travelled all around the world but we have been vilified at home but we have exposed collusion."