Norwegian inmates call for mass killer Anders Breivik to be released from solitary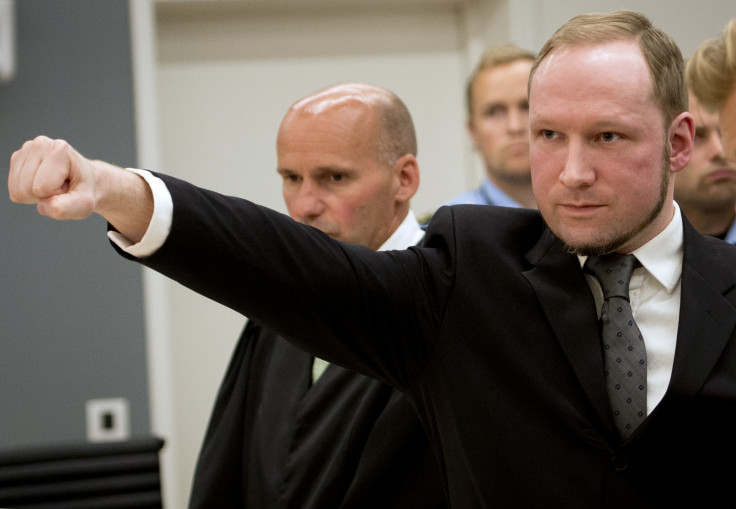 Norwegian prison inmates have called on authorities to release Anders Breivik from solitary confinement, claiming that their own conditions have deteriorated as a result of the expense of holding the far-right mass murderer in isolation.
A representative for inmates at the high security Skein prison in southern Norway said that ever since Breivik, was moved there from Ila prison near the capital, Oslo, conditions for other inmates had deteriorated.
"What people are talking about the most is the economics of it. It affects all of the other inmates," he told Norway's state broadcaster NRK, reports The Local. "He sits there. He has an entire cell block to himself, with five empty cells around him. Everywhere else, there are cut-backs. He should be made to serve with the others. He is an ordinary prisoner."
Breivik was sentenced to 21 years in prison in 2012 after attacks in Oslo and at a Labour Party youth camp on Utoya Island left 77 dead and 300 people injured.
He is the only prisoner in Norway serving his sentence in long-term isolation, and can have his term extended indefinitely as long as he is considered a danger to society.
While in jail, Breivik allegedly sent letters attempting to recruit people to his far-right cause, leading authorities to ban him from sending and receiving correspondence.
Breivik's lawyer, Geir Lippestad, said last week that his client intends to appeal against the terms of his sentence, arguing that prolonged solitary confinement constitutes a form of inhumane and degrading treatment, which is forbidden under the European Convention on Human Rights.
In solitary confinement, Breivik is allowed access to newspapers, a television and a treadmill.
In February 2014 Breivik threatened to go on hunger strike, accusing prison authorities of refusing to provide him with a new Playstation 2 and providing cold coffee and a lack of butter.
In repsonse to the inmates' demands, prison authorities said that the government provided special funding to accommodate Breivik, and denied his incarceration at the facility had impacted the conditions of other prisoners.
"He is not kept at the expense of other inmates at the prison in Telemark", Erling Feste, deputy director of the southern Norway's prison services told NRK.
© Copyright IBTimes 2023. All rights reserved.