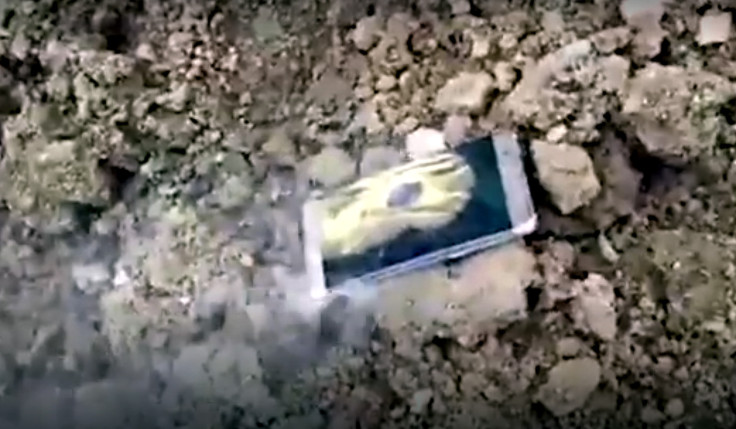 A man in China is alleging that troubled smartphone manufacturer Samsung tried to bribe him in order to keep video footage of his Galaxy Note 7 smoking from going public. Zhang Sitong made the allegation in a new investigative report by state broadcaster Chinese Central Television (CCTV) that was broadcast on Tuesday 18 October.
The 23-year-old from Tianjin in north-east China was saving a phone number on his Note 7 when the device suddenly started smoking and vibrating. He immediately threw the phone onto the ground and asked his friend to start filming it.
After complaining to Samsung, later that day two company employees arrived at his home. Zhang alleges that they offered him a brand new Note 7 and about $900 (£734, 6,066 Yuan) in compensation on the condition that he agreed to keep the video private, but he refused and decided to go to the media instead.
It was only in early September that Samsung specifically assured Chinese consumers that Note 7 devices sold in the country were safe and did not need to be sent back as part of the global recall, because they are apparently made with different batteries that would not overheat and explode.
"They said there was no problem with the phones in China. That's why I bought a Samsung," said Zhang, a salesman, who also previously worked as a firefighter. "This is an issue of deception. They are cheating Chinese consumers."
However, in late September and early October, reports began to emerge that Note 7 devices in China were exploding too, so finally over the course of the past week, Samsung expanded its global recall of Note 7 devices to include China.
Zhang was a big Samsung fan and has owned four smartphones manufactured by the company. But after the alleged incident with Samsung, he decided to quit his job as a salesman and team up with another man named Hui Renjie, whose Note 7 had also blown up. CCTV paid for the two men to take a trip across China visiting laboratories to get them to test their devices and figure out what went wrong, for an investigative journalism news package.
The independent laboratory was not able to determine why Zhang's phone caught fire, but it did find that an external heat source was not responsible for the fire that damaged Hui's device.
As part of the TV package, Zhang repeatedly asked Samsung to conduct tests on his phone in his presence to investigate the cause of the fire, but he claims the smartphone manufacturer refused and ignored his calls.
The video of the smoking Galaxy Note 7 can be viewed on the New York Times website.