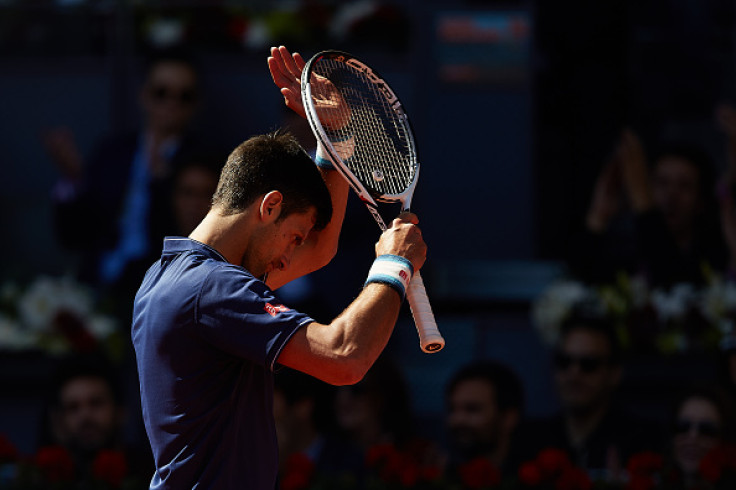 Novak Djokovic was left disappointed in his bid to defend the Madrid Open title following his defeat to Rafael Nadal in the semi-final on 13 May. The Serbian says he will still take positives from his latest defeat.
Nadal dominated the match with a 6-4, 6-2 win as the world number two lost for the first time to the Spaniard in three years. Djokovic won the Qatar Open after defeating Andy Murray in the final in January.
It was for the first time that the 29-year-old made it to the last four of any tournament and also faced a player inside the top 10 rankings since his success in Doha. Djokovic's next appearance will be in Rome and says he has a lot of positives to take from the Madrid Open, despite losing to Nadal in the semi-final.
"It was really good to play in the semi-finals of a big event, and to play against one of the top rivals I have in my life. I haven't had that feeling in months, so it's great to feel that," Djokovic explained, as quoted by Sky Sports.
"It was a positive week, a positive experience. I take, as I say, more positives than negatives into the next week in Rome. As I go along, I hope to continue getting better and getting stronger."
"Rafa was obviously a better player today. He deserved to win. He controlled the game from beginning to the end.
"It wasn't a very high quality of tennis from my side. I made a lot of unforced errors. His quality was very high. He managed to do whatever he wanted really, especially in the first set."
Nadal will now face Dominic Thiem in the final on Sunday as he is on course to win his third consecutive tournament in the clay-court season, after success at the Monte-Carlo Masters and in Barcelona. Nadal defeated Thiem in the Barcelona Open final in straight sets and the Spaniard will be looking for a similar performance to clinch the title in Madrid.