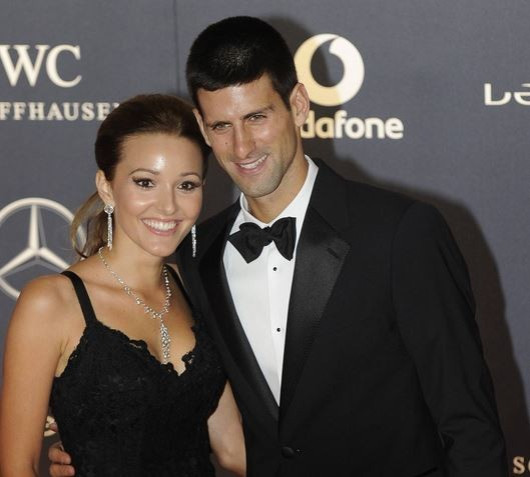 World's number one tennis player Novak Djokovic has announced his engagement to long-time girlfriend Jelena Ristic.
The 26-year-old Serbian player took to his Twitter account to announce the happy news.
"Meet my fiancé and future wife :) So happy! Thank you for wonderful wishes #NoleFam and friends!" he tweeted along with a picture of Ristic kissing him on the cheek.
Ristic also tweeted: "Thank you all for wonderful wishes! #lucky #blessed #happy."
The 27-year-old is the director of the Novak Djokovic Foundation, which raises money for disadvantaged children in Serbia.
Djokovic, who recently marked his 100th week in the number one position of the Association of Tennis Professionals (ATP) rankings, becoming the ninth player ever to reach the milestone, had talked about marriage.
"We have been together for eight years and we are planning joint future because we really love each other very much. We provide emotional stability to each other, which helps us in our professional careers," he said in an interview with Tennis Earth in July.
"We spoke about the wedding, that is natural course of things. Our mutual feelings lead us to it. When we have children, they will inherit excellent genes from both sides, because my mother was Olympic champion in handball. I am very proud of Novak, no matter what he does," he added.
Ristic has been one's biggest supporter of Djokovic during his matches.
"You can get very passionate when watching your boyfriend from the players' box. We just want them to be happy. You don't want to see them in pain. If they are not happy, neither are you," she told Daily Mail, "But I have to be careful as I don't want to get too emotional and distract Novak. It's about what the guys want. We don't want them to see us get emotional. When I'm at home watching him on the TV, I get even more passionate because I know the cameras aren't on me."
"My job is to keep Novak clam and relaxed before his matches. We are emotional partners. The emotional support we give to each other is very important. It's the same for me as well. He is very supportive and encouraging of the work that I do," she added.