Novak Djokovic staged a superb comeback to defeat Juan Martin Del Potro in three sets and reach the final at the ATP World Tour Finals at the O2 Arena in London.
Leading by a set and a break in the second, Del Potro looked set to repeat his victory in London of three months previous, in the Olympic bronze medal match at Wimbledon.
But Djokovic broke twice in both the second and third sets to win 4-6 6-3 6-2 and reach Monday's final where he will face either Roger Federer or Andy Murray.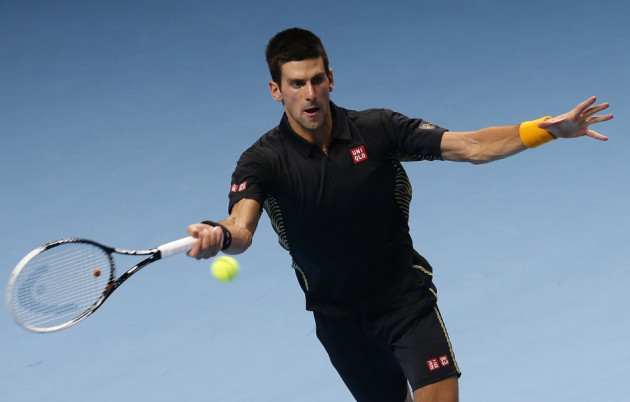 In a repeat of the bronze medal final at the London 2012 Olympic, Del Potro, who only qualified on Saturday virtue of a win over reigning champion Federer faced the newly instated world No.1 back in the same city where he staged his memorable summer win.
The pair squared off during the US Open, with Djokovic prevailing in straight sets and he set about attempting to repeat that feat as early as the second game as Del Potro netted a backhand to set up two break points.
But the Argentine rallied, producing an excellent first serve before a stinging forehand down the line as he fought his way back to save his serve.
Despite cruising through his own service games, the double break point was the last opportunity Djokovic would get in the set to hit the front, as Del Potro took the initiative.
First, he forced a break point chance at 3-3, fortuitously netting a forehand, allowing Djokovic to escape, before the ninth game, often a decisive moment in many a big match saw the former US Open champion produce a beautifully whipped forehand winner, before successive errors from his Serbian opponent secured the break.
And it was an advantage he would cement as he served out the set 6-4.
Del Potro appeared on the verge of Monday's final when he broke Djokovic, with another forehand winner, one of 11 throughout the match as he added a break to his set lead.
But Djokovic was far from down and out and after making it 0-40 on the Del Potro serve, he benefitted from a netted forehand to square the set.
The break back would prove significant as Djokovic broke for 5-3 in the eighth game and served out to level the match with the momentum having firmly swung towards the Australia Open champion.
The third game of the third set following the pattern of the second, with another break, this time falling the way of Djokovic, as Del Potro's error count continued to multiply, allowing the No.1 seed to take a stranghold of the contest.
It was momentum he would never relinquish as he secured a double break in the seventh game and eventually served the set out 6-2 to book his place in Monday's final for the first time since his victory in 2008.