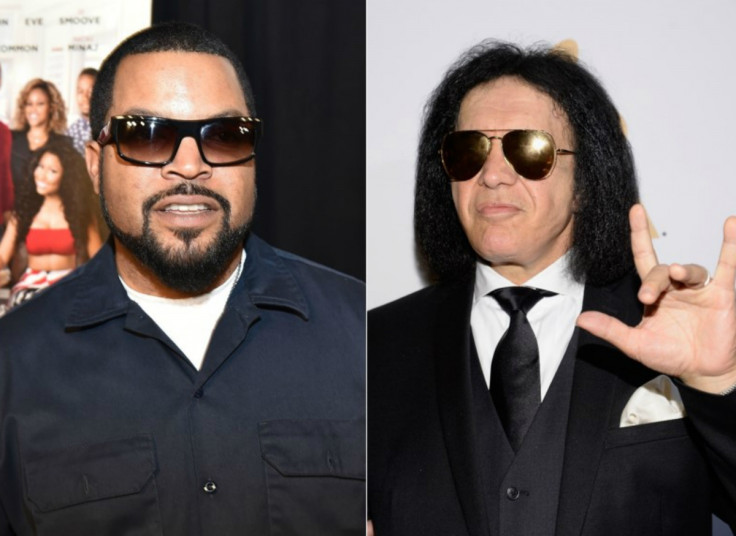 The feud between Ice Cube and Gene Simmons is rumbling on after Kiss star Simmons said rap music had no place in the Rock And Roll Hall Of Fame. The musicians traded harsh words with each other on Twitter over Cube's group NWA's induction on Saturday (9 April). Now Ice Cube says the rocker is "wrong" about rap music.
After Simmons, 66, admitted he was awaiting the "death of rap", NWA members Ice Cube and MC Ren used their induction speech to defend the genre, which they argue should definitely be considered rock 'n' roll. In a new interview with radio DJ Howard Stern, Ice Cube said: "I think he believes [the Hall Of Fame is] straight for rock 'n' rollers. I got a lot of respect for Gene Simmons. I met him a couple of times, he's actually pretty cool. But I just think he's wrong on this."
The gangsta rapper continued: "Everybody's got their own opinions and Gene, he's an OG in the game, but he's just wrong on this. It's a spirit and it's been going on since before they called it rock 'n' roll. I hate it when hip-hoppers, some of them go to the band. I'm a turntable guy, like old-school Run-DMC dudes. So I be having my feelings sometimes. But ultimately, we in baby."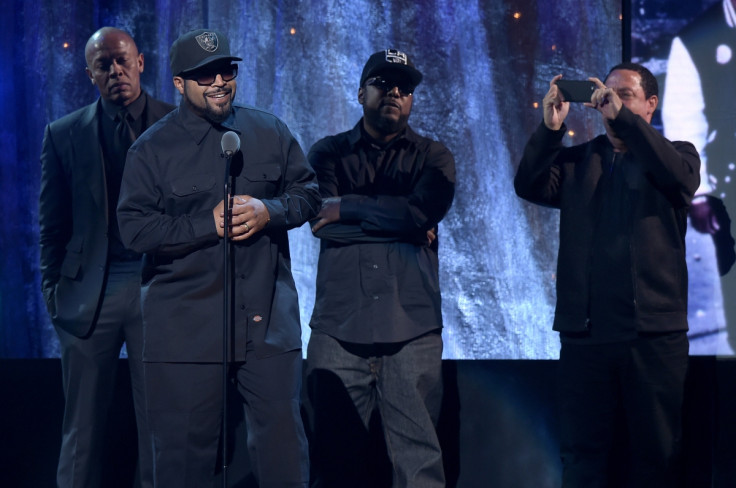 In his speech at the ceremony, held at the Barclays Center in Brooklyn, New York, Ice Cube said: "The question is, 'Are we rock 'n' roll?' And I say, you goddamn right we rock 'n' roll. Rock 'n' roll is not an instrument. It's not even a style of music. It's a spirit that's been going on since the blues, jazz, bebop, soul, rock 'n' roll, r'n'b, heavy metal, punk rock, and yes, hip hop."
Simmons replied via Twitter: "Respectfully – let me know when @JimiHendrix gets into the hip-hop hall of fame. Then you'll have point @icecube." He added: "Cube - I stand by my words. Respect NWA, but when Led Zep gets into Rap Hall of Fame, I will agree with your point."
NWA – who also include legendary producer, rapper, and now headphones designer, Dr Dre, as well as MC Ren and DJ Yella – controversially broke with tradition by turning down the opportunity to perform at the ceremony.
Ice Cube explained they were put off by having to pay the production costs themselves, telling Stern: "We wanted to do a big performance – especially with Dre, you don't wanna do nothing little, you wanna do everything big – we were starting to put it together and we realised that the Hall Of Fame wasn't giving us the support we was looking for.
"We weren't looking for a lot of money, we was just looking for a table, just a table down front. They're basically just throwing groups out there and you gotta put your own production together. I really don't know because we didn't really get that far into it once we realised that we damn near had to pay for everything, and it was like, 'Yo, are we getting inducted or are we paying to play?'"
Listen to Ice Cube's interview with Howard Stern