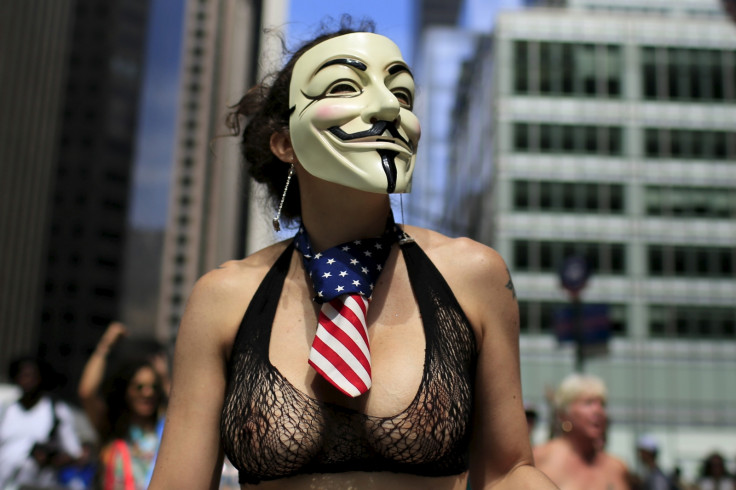 Over 300 topless demonstrators took to the streets of New York City to protest Mayor Bill de Blasio's efforts to remove topless street performers from Times Square. The GoTopless Pride Parade in New York was just one of many similar events occurring in 60 cities worldwide.
Protesters wore painted signs objecting to the policing of the topless women seeking tips in Times Square just days after de Blasio toyed around with the idea of shutting down pedestrian plazas in the area to get rid of all street performers. Eighteen-year-old Nickii Raynor told Newsday, "If men can do it, then women can do it ... It should be all or nothing."
According to Newsday, it is legal for men and women to go topless in New York City. Protesters on 23 August hoped to remove any stigma felt by women who go topless in the city, saying they should not feel ashamed of not wearing shirts in public.
The eighth annual event, in which topless advocates normally have a rally, began with a march this year. Cards distributed by demonstrators on 19 August allegedly read: "Free your breasts! Free your mind!"
In his determination to clear Times Square of topless women and costumed characters, de Blasio launched a multiagency City task force last week and even discussed removing pedestrian plazas from Times Square.
In a statement, the mayor said: "Millions of families and visitors come to Times Square every year to see and experience the bustling metropolis of New York City — the Crossroads of the World. Yet that experience has been diminished by the proliferation of topless individuals and costumed characters who too often harass people and expose families to inappropriate acts. To ensure all are welcome, and to continue the great success that is Times Square, the City will aggressively pursue every avenue for regulating these behaviours."
New York City Police Department Commissioner William Bratton expressed his support for a plan to remove the pedestrian plaza, telling radio station 1010 WINS: "I'd prefer to just dig the whole damn thing up and put it back the way it was."