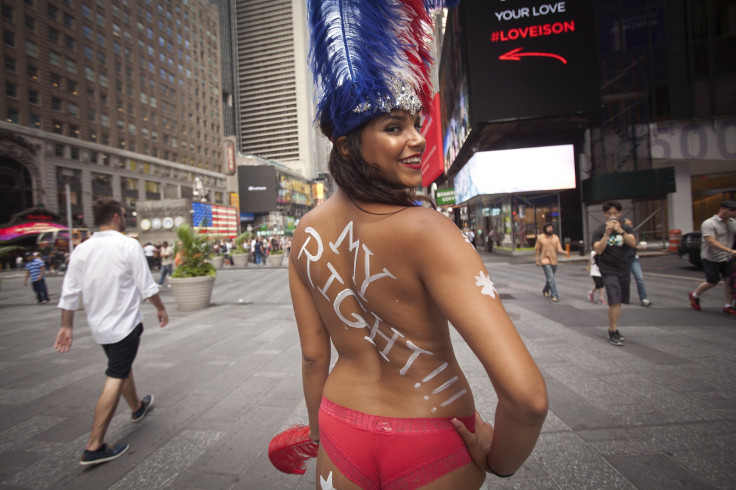 New York City Mayor Bill de Blasio is determined to clear Times Square of topless women and costume characters and has launched a "multiagency City task force" to do so. De Blasio also suggested removing the pedestrian plazas from Times Square to clear out street performers.
"Millions of families and visitors come to Times Square every year to see and experience the bustling metropolis of New York City — the Crossroads of the World," the mayor said in a statement.
De Blasio continued: "Yet that experience has been diminished by the proliferation of topless individuals and costumed characters who too often harass people and expose families to inappropriate acts. To ensure all are welcome, and to continue the great success that is Times Square, the City will aggressively pursue every avenue for regulating these behaviours."
According to Business Insider, the mayor's office said it was concerned about the "appropriateness" of the topless individuals and the "aggressive solicitation" by the street performers. The task force created will be co-chaired by New York City Police Department Commissioner William Bratton and the city planning commissioner. Nine different city agencies will participate in the task force.
"This task force will identify the best legal and regulatory ways to move forward and keep Times Square the popular destination site for visitors and families from New York City and across the world," de Blasio added.
The New York Times reported that one of the options de Blasio and the task force will be considering is getting rid of the pedestrian plazas from Times Squares. De Blasio reportedly surprised some urban planners when he said he would give the option "a fresh look".
De Blasio would at least have the support of the police commissioner, who told radio station 1010 WINS: "I'd prefer to just dig the whole damn thing up and put it back the way it was."
However, some in the city's transportation world are critical of the suggestion to remove the plazas citing pedestrian safety.