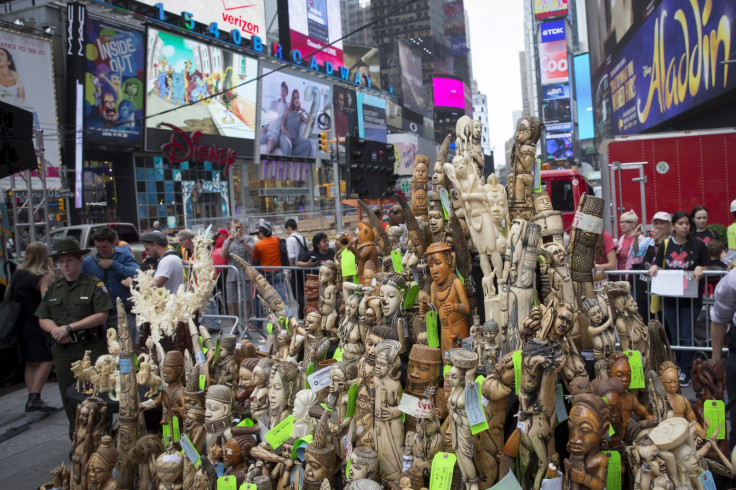 Federal wildlife authorities crushed more than a ton of confiscated ivory from New York and Philadelphia in Times Square on 19 June in a demonstration against the illegal ivory trade and elephant poaching.
The US Fish and Wildlife Service said the demonstration sends "a clear message that the United States will not tolerate wildlife crimes that threaten to wipe out the African elephant and a host of other species around the globe."
According to Reuters, the carved pieces of confiscated ivory were on display on a table in Times Square before being placed on a conveyor belt on a mechanical crusher. The giant machine then crushed and pulverised the ivory in front of a crowd of a thousand spectators.
"Today ivory crush serves as a stark reminder to the rest of the world that the United States will not tolerate wildlife crimes, especially against iconic and endangered animals," US Secretary of the Interior Sally Jewell said in a statement. "The message is loud and clear: This Administration will stop the pacers in their tracks, stop the profits and work with our international partners to protect our global natural heritage."
Wildlife Conservation Society spokesman John Calvelli added: "This is an illegal product and we feel that burning it or destroying it gets it our of commercial use and, therefore, there's less of a chance for it to find its way into the marketplace."
Reuters reported that the ivory was confiscated from dealers and retailers in New York City and Philadelphia. In August 2014, New York passed strict regulations against the ivory trade by banning the sale of ivory and increasing the penalties for selling ivory.
Nearly 35,000 elephants are killed in Africa every year for their ivory, the Fish and Wildlife Service stated. According to the New York Department of Environmental Conservation, New York City is the biggest port of entry for illegal wildlife goods in the US.