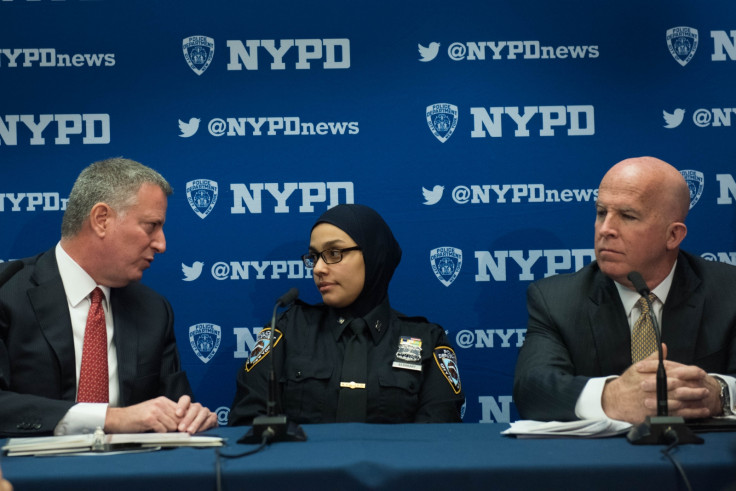 New York City Mayor Bill de Blasio has publicly praised a police officer for her service after she was allegedly threatened for wearing a hijab while off duty.
Aml Elsokary, a 34-year-old Muslim-American, is an 11-year-veteran of the New York Police Department and routinely wears her hijab as she patrols Brooklyn.
She was off duty when she noticed a man arguing with a teenager. When Elsokary intervened, the man allegedly turned to her and said: "ISIS [expletive], I will cut your throat, go back to your country," before running off.
In a news conference on Tuesday (6 December), de Blasio said: "I was sick to my stomach when I heard one of our officers was subjected to threats and taunting, simply because of her faith.
"Now, it makes no difference to me whether she was off duty or on duty at the time. She serves this city. She is an example of everything we would want from our fellow citizens: a commitment to other, a commitment to service.
"[She has] a willingness to do something greater than herself and what does she get for it? Threats to her life and bigotry, taunts.
"We can't allow this. It's unacceptable in this city. It's unacceptable in this nation. And it's important to put a human face to this story which is why I wanted you to meet Officer Elsokary."
De Blasio added she was one of 900 Muslim-American police officers serving in the NYPD. She was also praised for her actions in 2004 when she helped save a baby girl and an elderly man from a burning building.
Elsokary said: "I help everybody no matter what your religion is. I'm born and raised here and I am here to protect you all.
"The department has supported me in wearing my hijab and I want to thank my Muslim officers for standing by my side."
Within 24 hours of Elsokary being threatened, the NYPD arrested Christopher Nelson, 36, and charged him with menacing as a hate crime and aggravated harassment.
According to NYPD Chief of Detectives Bob Boyce, hate crimes are up by 35% since the election of Donald Trump.
De Blasio said: "She had to experience a man allegedly yelling at her, 'Go back to your country.' Well, this is Officer Elsokary's country. She is an American. She is a New Yorker. She's already at home.
"So I want the city of New York to see the face of this public servant, this crime fighter, this person who decided that her mission was to serve the rest of us."