An Obama-era human rights envoy, Keith Harper, has called on the UN to set up a commission to probe human rights violations in Myanmar's Rakhine state and not let its leader Aung San Suu Kyi off the hook because of the "iconic status" she holds in the eyes of the West.
Harper served as ambassador to the Geneva-based UN Human Rights Council (UNHRC) under former US president Barack Obama's administration from 2014 till January this year.
He accused Suu Kyi of "utterly" failing to address the plight of ethnic Rohingya Muslims in the restive state. He said her image as a hero in front of human rights advocates and Western diplomats has overshadowed the issue and spared her from being held responsible for the persisting issues.
He urged the UNHRC to launch a probe like it has done against Syria, South Sudan, North Korea and Eritrea.
"For far too many, her iconic status as pro-democracy crusader makes it difficult to hold accountable a Suu Kyi-led government no matter the well-documented human rights violations," Harper wrote on the New York-based Just Security online forum.
"Her Nobel Prize has become a most awful kind of shield from proper scrutiny," he said.
US President Donald Trump's administration is yet to name a replacement for Harper at the Geneva council, but he fears the new envoy might try to play down the situation.
As the UNHRC is gearing up to debate the issue during a three-week session starting on Monday, 27 February, Harper described the inquiry as "heavy medicine reserved for the most horrendous human rights cases".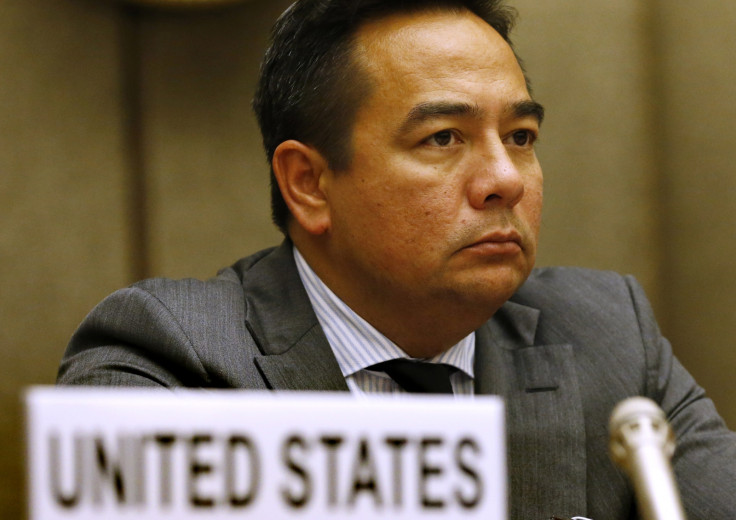 At least 86 Rohingya Muslims have died since clashes began on 9 October, 2016 and approximately 66,000 people were forced to flee to Bangladesh. Allegations against the Myanmar government and soldiers surfaced after a military operation was reportedly launched to drive the Rohingyas out of Rakhine state. The army's action was believed to be the result of an attack on three security posts by nearly 250 armed men.
Although the forces have been rejecting the allegation, a UN human rights report said the security forces' action in the name of counterinsurgency "very likely" amounted to ethnic cleansing.
"Even accepting that Suu Kyi does not sufficiently control the military, she has utterly failed to utilise her considerable bully pulpit which would undoubtedly be impactful," he wrote.
While many had hoped that the Nobel Peace Prize laureate would tackle the ongoing crisis when she took power last year, she was only happy to be lauded as a pro-democracy icon, Harper noted. He claimed Suu Kyi was not prepared to stand up for minority Muslims.
"Most importantly, in the face of such evident atrocities, the Human Rights Council must act with purpose, irrespective of who specifically is calling the shots in Burma (Myanmar) and how much Suu Kyi is personally to blame. The Council must do so because that is its very purpose – to shine a spotlight on grave human rights situations," he wrote.