WikiLeaks reveals Podesta advised aide to 'dump all those emails' from Clinton private server
WikiLeaks has released its 25th batch of Podesta emails, which contain around 2,500 emails.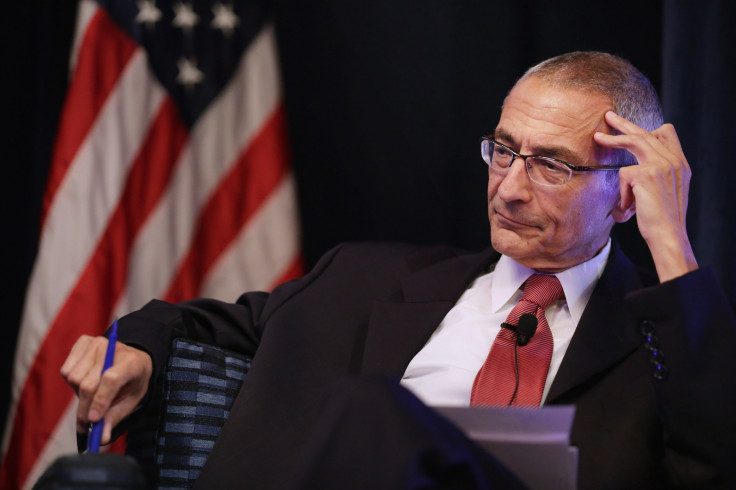 WikiLeaks released its latest cache of Podesta emails on 1 November. One of the leaked emails reveals Clinton campaign chief John Podesta advised a long-time campaign aide Cheryl Mills to "dump" emails, as first reports of Hillary Clinton's use of a private server while Secretary of State began coming out.
In the email dated 2 March 2015, the same day that the New York Times first reported about Clinton having used a private server from her New York basement apartment for work related correspondence, Podesta wrote, "we are going to have > to dump all those emails so better to do so sooner than later", to which Mills replied, "think you just got your new nick name".
However, it is unclear as to which emails Podesta was specifically referring to. Besides, some reports have argued Podesta did not mean disposing of the emails, and that his words mean he wanted them disclosed.
Yet another email from the latest WikiLeaks dump, dated 15 September 2015, reveals Podesta had doubts about Clinton's claims about forgetfulness. In response to a question from long-time Clinton aide Neera Tanden about why the Democratic presidential candidate referred to herself as a "moderate", Podesta responded, "I pushed her on this on Sunday night. She claims she didn't remember saying it. Not sure I believe her."
The nearly 2,500 messages from the 25th batch of Podesta's emails bring the total number of documents released so far to almost 42,000, RT reported. WikiLeaks has vowed to publish over 50,000 emails before Election Day in the US, on 8 November.
The FBI on 30 October obtained a warrant to review new emails found on Clinton aide Huma Abedin's laptop. The US DoJ (Department of Justice) told Congress that it is assisting the FBI in its investigation of reviewing emails possibly linked to Clinton's private email server.
The Clinton campaign's top aides have since slammed the FBI director James Comey for his "blatant double standards" following allegations of Comey's decision to withhold evidence of Donald Trump allegedly receiving support from Russia.
WikiLeaks recently announced that it has commenced "phase 3" of their US election coverage. However, the whistle-blowing platform refrained from mentioning any specifics about their alleged new phase of coverage.
© Copyright IBTimes 2023. All rights reserved.