In a bid to manage the opioid epidemic in the US, health officials are taking the help of Overdose Detection Mapping Application Program, or ODmap – a crowdsourced web app that maps opioid overdoses by combining street-level data with tools from Esri, a digital mapping company, according to a report in Wired.
The app, developed by Washington/Baltimore High Intensity Drug Trafficking Area (HIDTA), provides real-time geospatial data which law enforcement and health officials use to keep a tab on country-wide opioid abuse and respond as swiftly as possible.
It produces a detailed report, giving a bird's-eye view of overdose incidents across different parts of the US – with coloured dots denoting data for each state and county.
In the first half of this year, the app has logged more than 3,400 overdose incidents.
Much like real-time traffic tracking, ODmap works with simple panning and zooming. The app has helped officials understand geographic correlations and patterns regarding the spread of Opioid dependence in different regions in the country.
It helps them anticipate ripple effects of overdoses and flag warning signs in areas that could be at risk. The app has also allowed first-responders to prepare preventive measures in advance, such as storing stocks of naloxone, the overdose-reversing drug.
Meanwhile, law enforcement officials use it to keep a track on drugs being smuggled across different states. "Now, we're basically tracking the drug. We're able to see it in black and white, as it spreads throughout a region," Washington/Baltimore HIDTA deputy director Jeff Beeson told Wired.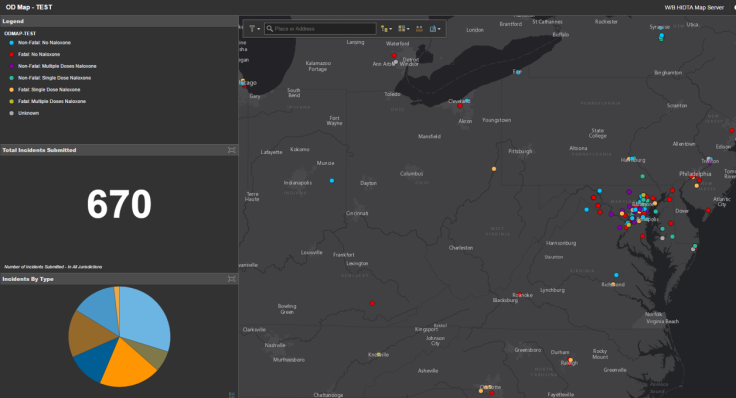 ODmap has two access levels for different users. First responders on the scene of an overdose have Level I access and can log into the app to provide details – time, location and other specifics – of an overdose case. Meanwhile, sheriffs and public health chiefs have access to Level II, which is basically the back-end of the app where all the information stored is made available for real-time tracking.
However, the success of this app depends heavily on how well it is adopted by people since it is a crowdsourcing tool and its accuracy increases with the amount of data fed into the system.
Since its launch in January 2017, the app has got users from 70 counties on board, with as many as 186 law enforcement and health agencies using its data.