Oklahoma Tornado: More than 100 People Found Alive in Ruins [VIDEO]
Hopes rise of higher number of survivors from super-typhoon in Oklahoma suburb of Moore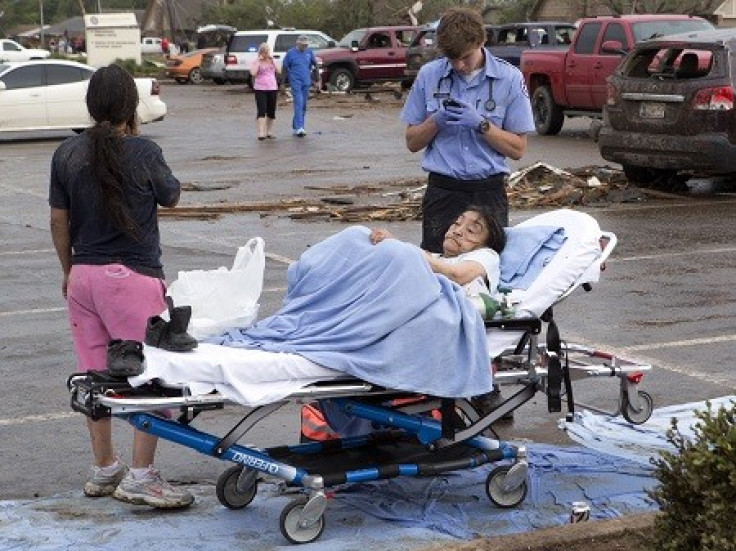 More than 100 people have been found alive in an Oklahoma suburb devastated by a tornado.
Betsy Randolph, of the Oklahoma Highway Patrol, said of the rescue operations: "We believe that about 101 people were found alive in cellars and different places throughout the city.
"We hope we'll have even more positive news come from all of this bad. As far as we're concerned, if one person is unaccounted for, we're going to stay and we're going to search until we find that one person," she told the BBC.
Amy Elliott, chief administrative officer at the Oklahoma office of the Chief Medical Examiner, said that the death toll could be half of the original estimate.
"The prior figure of 51 dead may have included some double-reported casualties," she said.
Eyewitness Sue Ogrocki claimed that she saw 12 children being dragged out alive from the rubble of the Plaza Towers elementary school on the night of the storm.
Ogricki, a photographer with Associated Press, said: "Police and firefighters used bars to try to lift a large chunk of a wall up as they pulled children out one-by-one from underneath. Parents and residents stood in a line helping to pass the children from one set of arms to another out of harm's way."
READ:
Oklahoma Tornado: Woman Finds Her Missing Dog Alive in Rubble During TV Interview [VIDEO]
Oklahoma Tornado Enters Ranks of World's Deadliest Twisters [PHOTOS+VIDEO]
© Copyright IBTimes 2023. All rights reserved.