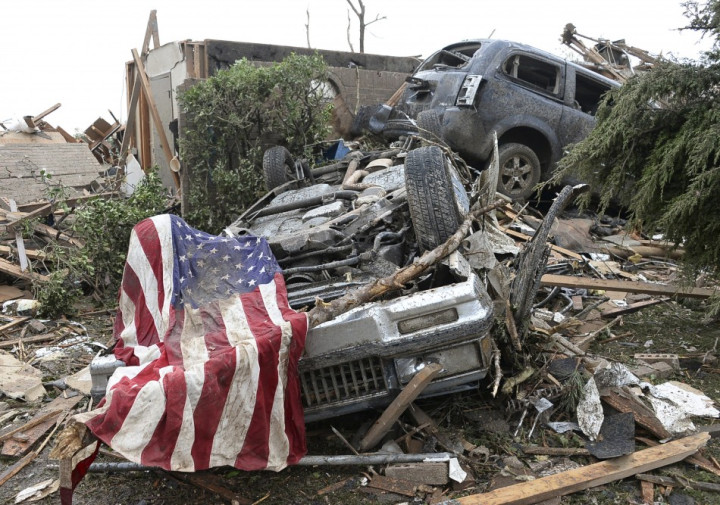 An eye-witness claims at least 12 children have already been rescued from the Oklahoma elementary school ravaged by yesterday's tornado, and says the rescue effort is proceeding in a "calm and orderly fashion".
Sue Ogrocki, a photographer for the Associated Press, has written about her experience at the Plaza Towers elementary school in Moore, which sustained a direct hit from the tornado and was completely decimated.
Ogrocki claimed all the children she saw being pulled from the wreckage were alive, and described the moment a child was reunited with his father after calling out to him from the rubble.
The photographer said: "I expected chaos as I approached the piles of bricks and twisted metal where Plaza Towers Elementary once stood but was surprised by how calm and orderly everything was.
"Police and firefighters used bars to try to lift a large chunk of a wall up as they pulled children out one-by-one from underneath. Parents and neighborhood residents stood in a line helping to pass the children from one set of arms to another out of harm's way.
"A little boy was lifted from under the wall and rescuers were going to start passing him to the line of volunteers, but his dad was there. As the boy called out for him, they were reunited.
"I spent about 30 minutes at Plaza Towers and photographed about a dozen children who were pulled from under the rubble.
"I focused my lens on them. Some of the children looked dazed and others seemed terrified. But they were all alive."
Floodlights and heavy lighting gear have been brought to Plaza Towers to move the heavier debris, as rescue teams work through the night to save as many children as possible.
Local reports suggest as many of 24 children were killed when the tornado hit the school, tearing off its roof and levelling its walls.
Meanwhile, the emergency services are attempting to clear people from the affected area. An Oklahoma State Trooper told USA today they are asking all journalists to leave the mostly badly-hit areas, and a curfew may also be imposed.
Lightning continues to strike all over Moore, and experts believe further severe storms could be on the way.
READ:
Oklahoma Tornado Enters Ranks of World's Deadliest Twisters [PHOTOS+VIDEO]