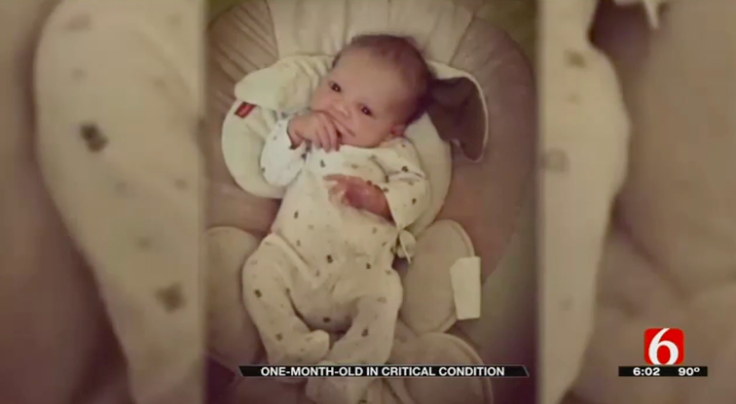 An Oklahoma man has admitted to grabbing his one-month old son by the throat, shaking him and throwing him into a ceiling fan after becoming frustrated by the baby's cries, an affidavit revealed.
Robert Jackson Jones Jr, a 24-year-old from Muskogee, Oklahoma, was charged with six counts of child abuse after several incidents. The affidavit said Jones also slammed the baby against a changing table, smother him to muffle his cries and dropped him in the bathroom.
According to the Tulsa World, the alleged incidents happened between 16 August and 19 August. The baby's mother was reportedly working and could not get her usual babysitter, so the boy's father was watching him.
Emma Whitehead, baby Calvin's mother, told police that her son was doing fine until Sunday (20 August), when he started having seizures. She and Jones took the baby to the emergency room, where doctors told Emma about Calvin's injures.
KOTV reported that the baby, who is in a critical condition, has two skull fractures, a brain bleed, bruises on his left eye and left ear and fingerprint bruises on either side of his neck.
"These injuries are considered to be non-accidental injuries. And due to (the infant's) declining medical condition, he was transported to Saint Francis Tulsa," Muskogee Police Department investigator James Poffel wrote in the affidavit.
Whitehead told reporters that when doctors told her Calvin's injuries, she was shocked. "I never thought anything like this would ever happen," she said. Whitehead admitted that Jones had previously been violent but said she did not think he would harm their son.
The worried mother said baby Calvin is showing signs of improvement. "He's breathing on his own, moving his legs, opening his eyes, looking around," she said.
Charges were later brought against Whitehall for enabling child abuse by injury, The Muskogee Phoenix reported. Jones, meanwhile, is being held on $1m bond.