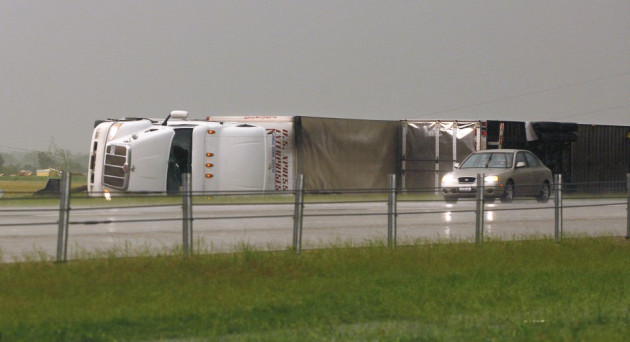 Five people, including a mother and child, have been killed after a series of tornados swept through Oklahoma on Friday 31 May.
The storm struck during the evening rush hour. One twister hit the Interstate 40 highway near Oklahoma City, tipping over trucks and killing the woman and her child, who were in a car.
Reports claim that there were five twisters in the Oklahoma City area, accompanied by large hailstones and wind speeds of up to 90 miles per hour.
The suburb of Moore, where two weeks ago 24 were killed by a tornado, was struck again.
Amy Elliott, a spokeswoman for Oklahoma's Office of the Chief Medical Examiner, said that two of the deaths occurred in Union City and one was in El Reno, west of Oklahoma City.
The storms injured 50 people, five of them critically, said a spokesperson for the Integris Health hospital system.
Brandi Vanalphen, 30, was in her car in traffic-snarled roads when the tornado struck near the suburb of Norman.
"What got me scared was being stuck in traffic with sirens going off," she told Reuters.
"I started seeing power flashes to the north... I started driving on the shoulder. People started driving over the grass."
Oklahoma City Mayor Mick Cornett said: "For reasons that are not clear to me, more people took to the roads than we expected. Everyone acted differently in this storm, and as a result, it created an extremely dangerous situation.
"I think we are still a little shaken by what happened in Moore. We are still burying children and victims, so our emotions are still strong," he added.
The heavy rain caused nearly four feet of flooding, and 60,000 homes in the area lost power.
"We're scrambling around," said Lara O'Leary of the local ambulance agency. "There is very low visibility with the heavy rain ... so we're having trouble getting around.
"The damage is very, very widespread."
Officials for Oklahoma City's Will Rogers World Airport said that passengers had been evacuated to an underground tunnel and that flights in and out had been suspended.
The storms have now hit Missouri, where governor Jay Nixon has declared a state of emergency.
The National Weather Services Storm Prediction Centre said the weather is due to move across to the Ohio and the Mississippi River valley on Saturday.
The organisation TwisterChasers.com posted the video below on the Tornado Alley Video YouTube channel.