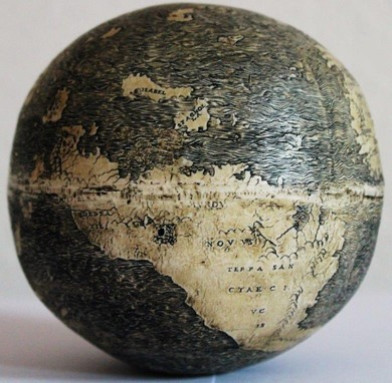 The earliest known globe of the New World has been discovered and archaeologists say the oldest globe was engraved on ostrich eggs, a report published in the 19 August issue of the journal, The Portolan, reveals.
"When I heard of this globe, I was initially skeptical about its date, origin, geography and provenance, but I had to find out for myself. After all no one had known of it, and discoveries of this type are extremely rare. I was excited to look into it further, and the more I did so, and the more research that we did, the clearer it became that we had a major find," S. Missinne, Belgian scholar, researcher and author of the report said.
The globe, bought in 2012 at London map Fair, was made from joining the two lower halves of ostrich eggs and is about the size of a grapefruit. Scientific research and Carbon dating has revealed that the globe dates back to early sixteenth century, making it the oldest known globe presenting the New World.
"Until now, it was thought that the oldest globe to show the New World was the "Lenox Globe" at the New York Public Library, but the author presents evidence that this Renaissance ostrich egg globe was actually used to cast the copper Lenox globe, putting its date c. 1504," Washington Map Society that publishes the journal said in a statement.
According to the report, the ostrich globe was made in Florence, Italy, on the basis of the information collected by early world explorers such as Christopher Columbus and Amerigo Vespucci.
The globe shows North America as a group of scattered islands while South American landmass carries only three names - Mundus Novus, Terra de Brazil, and Terra Sanctae Crucis.
The report also suggests that the intricacies with which the globe has been carved show that the engraver was influenced by or worked in the workshop of Leonardo da Vinci.