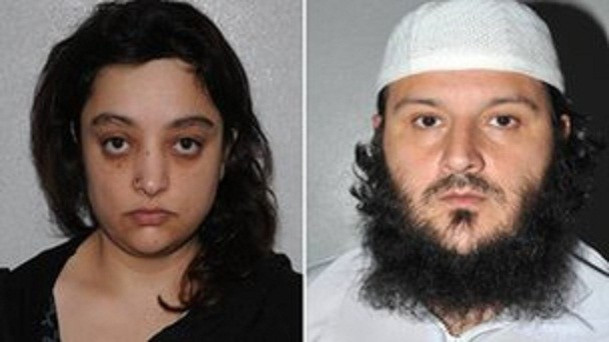 A hairdresser from Oldham has been found guilty of helping her husband plan a terrorist attack against Jewish communities in Greater Manchester.

Shasta Khan, 38, denied being involved in her husband Mohammed Sajid Khan's plans to attack Bury's Jewish community.
She was found guilty of engaging in preparation for terrorism and two counts of possessing information useful for terrorism.
Her 33-year-old husband pleaded guilty to the charges at an earlier hearing.
Their plan was foiled after police found a cache of terror-related material at their home in Oldham after they were called out to the property to investigate a domestic dispute between the two.
Officers found videos showing beheadings, al-Qaida propaganda, bomb-making guides, safety goggles, syringes, peroxide, bleach and electrical equipment.
The couple were thought to have been influenced by an online al-Qaida magazine. One of the articles featured in the magazine entitled "Make a bomb in the kitchen of your mom" offers a step-by-step guide on making an explosive using Christmas lights.
The jury at Manchester crown court was told that a plastic bag at the couple's house contained electrical wires, Christmas tree lights, bulbs and a battery - all matching the materials in the bomb-making article.
Bomb-making barbecue
The pair attempted to make bombs on their kitchen stove and on a barbeque in the back yard of their home, the court heard.
Their satnav showed they had been on multiple trips to Jewish areas around Greater Manchester, mainly Prestwich.
Liz Reid, prosecutor in the CPS counter-terrorism division, said: "Husband and wife Mohammed Sajid Khan and Shasta Khan have been convicted of making preparations to carry out a terrorist attack on British soil.
"The court heard that the most likely target of their intended attack was an area of Prestwich popular with Jewish people and businesses. Between them they acquired what was needed to make explosive devices and carried out a number of reconnaissance trips in the Greater Manchester area."
Mrs Khan was cleared of a third charge of possessing information useful for committing or preparing for an act of terrorism.
She will be sentenced along with her husband on 20 July.