The ex-boyfriend of Olivia Newton-John has been discovered after faking his own death in 2005, it has been claimed. Patrick McDermott is alive and well in Mexico, reports New Idea.
The 60-year-old American cameraman – who was the on-off boyfriend of Grease star Newton-John, 69, between 1995 until his disappearance a decade later – was declared dead in 2008.
He had left San Pedro marina off the coast of California for an overnight fishing trip, but none of the 22 passengers on board the vessel named Freedom saw him fall overboard. Passengers and three crew members on board gave contradicting reports of his whereabouts both during and at the conclusion of the trip.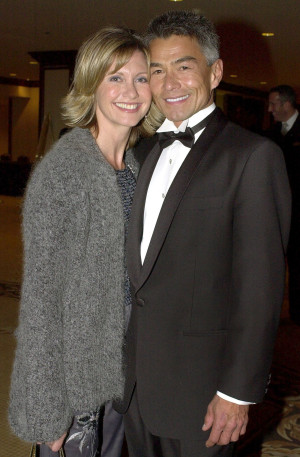 After his body was not recovered and he vanished without a trace, the United State Coast Guard concluded that McDermott had "most likely" drowned after going missing on 30 June 2005. His absence went fairly unnoticed until 6 July 2005 when he did not attend a family event.
There were long rumours that the cameraman had faked his own death and was living in Mexico. Now gossip magazine New Idea clams it has proof that McDermott is alive after receiving snaps by US media agency Coleman-Rayna showing a man that matches his description and relaxing in the Mexican sunshine with a female companion.
The man in the snap is thought to be around 60-years-old, and a private investigator named Charlie Parker has explained to the magazine why he thinks the man in the photo is McDermott, who is of Korean descent.
The PI said: "The widow's peak is exact. The eyes are very similar and the ears extend down on the head the same distance. I believe it is him."
He declared that the man in the photograph was a "90% match" to be McDermott – whose own ex wife Yvette Nipar believed he was dead.
McDermott – who was adopted from Korea by an American couple – has previously filed for bankruptcy and had received a court order to pay overdue child support to his former wife Nipar, an aspiring actress. They were married in 1992 when she was four months pregnant and divorced 15 months later in June 1993. Their son is named Chance.
His case was previously featured on America's Most Wanted. In a 2009 feature on Dateline NBC, investigators went undercover to Mexico to try and uncover his whereabouts.
Investors claimed that McDermott disappeared to avoid debts, which included $8,000 (£6,100) owed to his ex-wife for child support.
Newton-John has commented on her ex-boyfriend's disappearance, telling Australian TV series 60 minutes in September: "It's human to wonder. Those are the things in life you have to accept and let go because whenever you go through difficult times there are always those concerns but...I live on."