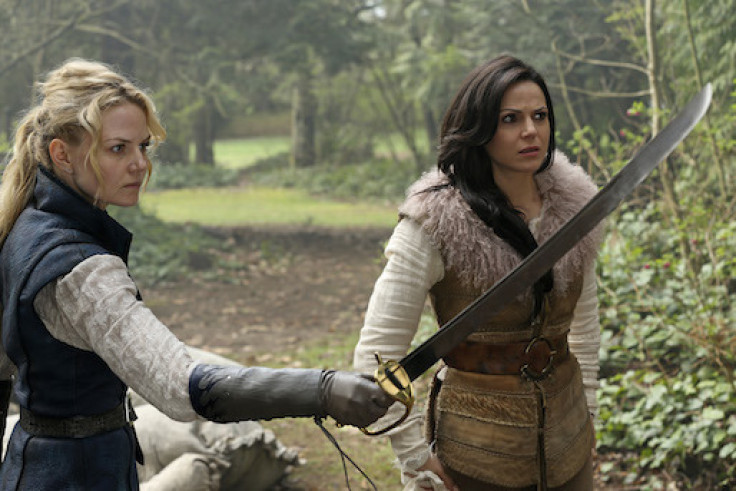 Once Upon A Time season 4 will alter the fairy tale in the two-hour season finale which will air on 10 May on ABC.
The final episode is titled Operation Mongoose Part 1 and Part 2, where Henry will restore the balance between heroes and villains.
According to the official synopsis, "The Author proves to be a formidable wild card and forges an alliance with Gold. Emma, her parents, Hook and Regina scramble to stop them, but when Gold and the Author turn the tables on heroes and villains alike, the prospect of any happy outcome appears worlds away."
Meanwhile, Henry discovers he has big shoes to fill as he steps up to save his family before the story's final page is turned. It's a race to the finish, and everything culminates with a shocking twist that will leave the residents of Storybrooke reeling, in the captivating two-part season finale of Once Upon A Time.
A new promo clip shows that the Author (Patrick Fischler) has switched roles. The Evil Queen (Lana Parrilla) is good, while Snow White (Ginnifer Goodwin) and Prince Charming (Josh Dallas) have slipped to the dark side. Also, Rumples is a knight, and has Belle on his side, who calls him a Hero.
Creators Adam Horowitz and Eddie Kitsis teased a top-secret season-ending scene, which will have repercussions for season 5.
"There is a top-secret scene that I'm shocked hasn't got out — but there's still time!" Once Upon A Time co-creator Eddy Kitsis told TVLine.
"We'll absolutely be setting up what Season 5 will be, but unlike last year where it was, 'Hey, it's Frozen,' or the year before which was, 'Hey, we're going to Neverland,' this one will be much more like Season 1 in that it's a condition of the show that changes and has ramifications for everyone."
Watch Snow White in the villain's shoes in the season 4 finale that airs on 10 May at 8pm.