The Once Upon a Time cast has enchanted Comic Con by bringing executive producers Eddy Kitsis and Adam Horowitz along with stars Josh Dallas, Jennifer Morrison, Colin O'Donoghue, Jared Gilmore, Lana Parrilla, Emilie de Ravin and Robert Carlyle.
The panel also gave the crowd an exclusive Frozen first-look scene from the Season 4 premiere.
The clip opens with Frozen's Anna (Elizabeth Lail) and Elsa (Georgina Haig) placing flowers on their parents' gravestones, and Elsa telling her sister, "Anna, they would be so proud of you." Elsa also breaks the news that she has a surprise for Anna - not just any surprise — it's for her wedding, reported TV Line.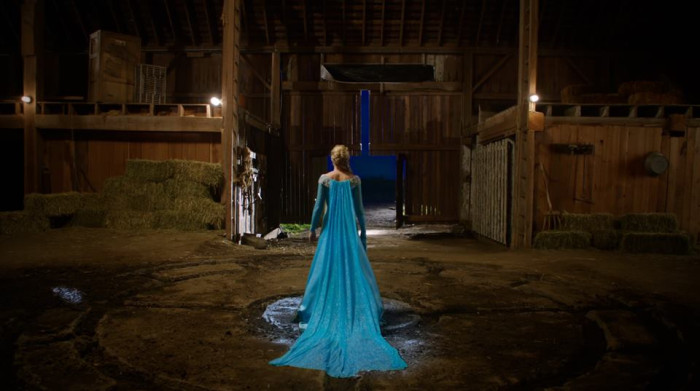 Cast members who play characters from Frozen have been confirmed. Georgina Haig will play Queen Elsa and Elizabeth Lail will play Anna. Scott Michael Foster will play Anna's love interest Kristoff.
Another sneak peek at ABC drama's Season 4 premiere, screened at the San Diego Comic-Con, teased about Regina being back to her 'Evil Queen' ways again.
A second clip was shown of Regina going down into the hospital basement, and freeing her Magic Mirror, Sidney Glass. "I need my mirror," she declared, visiting Giancarlo Esposito's entrapped adviser. "There's someone standing in the way of my happiness. I need your help getting rid of them."
Is Regina's heartbreak brought forth by Robin Hood's 'dead' wife Marian, going to lead her back down a dark road?
"I think she has something up her sleeve. But is anyone surprised about that one?" star Lana Parrilla said.
"She's a bit conflicted. She's enjoyed being good and light magic. However, old habits die hard," she added.
Regina's relationship with Emma is expected to go through ups and down, as Emma is responsible for the unexpected "resurrection" of Robin Hood's dead wife.
"It's an impossible situation," Jennifer Morrison said.
"I can't apologize for saving a life. Yet I'm horrified that I've gotten in the way of Regina's happiness. It adds a nice element of conflict and concern and generosity," she added.
At the end of Season 3, Emma and Hook embraced their feelings for each other, but is the captain her soulmate?
Producers of the show Eddy Kitsis and Adam Horowitz declined to answer that question, but did explain the difference between true love and a soul mate.
"True love is when you truly love somebody, and soulmate is the idea that there's only one person for you. On our show, we've learned that happy endings aren't always what they expect. If you love somebody but it doesn't work out, you should love again," Kitsis said.
She hinted that Emma and Regina should pursue their new suitors despite having lost the men who could've been their soul mates.
"But Emma's quest for identity isn't really about romance," said Kitsis.
"It's interesting, she's on a journey and it's not really about her relationships, it's about her finding herself," she added.
Also, the titles of the first two episodes of 'Once Upon A Time Season 4 have been released.
Episode 1 is called 'The Tale of Two Sisters.' The title of episode two was recently revealed by co-creator of the show Adam Horowitz via Twitter.
Here's another #OnceUponATime #titlespoiler -- hope to see ya 9/28 for season 4! pic.twitter.com/0VKOkqDfxY

— Adam Horowitz (@AdamHorowitzLA) July 20, 2014
Once Upon a Time Season 4 will premiere on September 28 on ABC.