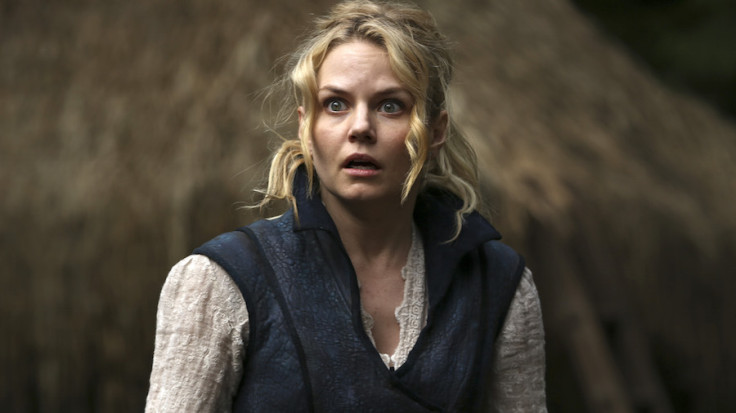 First look at Emma's dark version in Once Upon a Time season 5 is revealed.
Entertainment Weekly posted two pictures of Jennifer Morrison's dark character, who will be the new villain in the series.
The season 4 finale ended with Emma saving Regina from darkness, and she used the dagger to consume her, thus making her the Dark One.
The picture shows Morrison sporting a dark brown jacket, high black heels and she is holding the dagger which reads, " Emma Swan"
Executive producer Edward Kitsis told EW, "Every part of her is fighting her dark urges. What happens when [the darkness] mixes with the lightest magic of all, and will Emma have the strength to fight it?"
Executive producer Adam Horowitz dished on the new powers of the Dark Swan and how they will will differ from Rumplestiltskin's (Robert Carlyle).
Horowitz said, "How a Dark One manifests is specific to each person who takes on the mantle. Emma will have her own unique spin on what it means to be a Dark One."
Becoming the Dark One "allows you to have the freedom to have no inhibitions", Kitsis added, which could play a role in exactly how Emma uses her powers.
"We are going to be exploring love and what happens when you use it as a weapon and what are the things that it makes you do. In the past, we've said love is the most powerful magic of all. It makes you do many things you normally wouldn't think you would."
Previously ABC revealed that British actor Liam Garrigan will portray King Arthur in Once Upon a Time. Garrigan will first appear in the season premiere and will recur.
"As we do on Once Upon a Time, we're doing our own twist on Camelot, on Arthur's background and on his relationships with Merlin, Guinevere and Lancelot," executive producer Adam Horowitz and Edward Kitsis told Entertainment Weekly.
Camelot will play a big role in the fifth season after the Apprentice revealed in the finale that the mysterious Sorcerer, who may be able to save Emma, is actually Merlin.