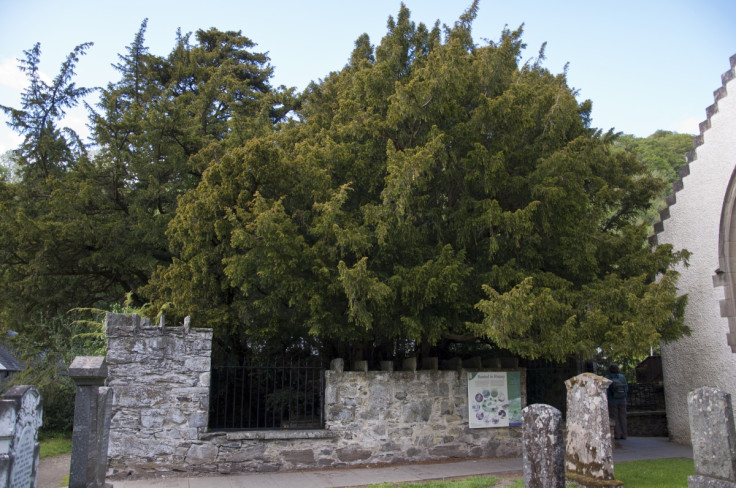 A branch of a male tree, believed to be one of Britain's oldest, is changing sex and sprouting berries. Unlike many trees that are bisexual, this is a yew which can be either male or female. Such sex change in trees has been observed before -- usually in a part of the crown -- but is rare.
The yew at a churchyard in Fortingall, Perthshire is believed to be anywhere between 3000 and 5000 years old, and dates back to early Christianity in Scotland. Local legend has it that Pontius Pilate, the fifth prefect of the Roman province of Judaea, rested under the tree, says Scotland Now.
During a recent visit, Max Coleman of the Royal Botanic Garden, Edinburgh, found three red berries on the tree. "Males have small spherical structures that release clouds of pollen when they mature. Females hold bright red berries from autumn into winter. It was, therefore, quite a surprise to me to find a group of three ripe red berries on the Fortingall Yew this October when the rest of the tree was clearly male," said Coleman.
The tree is protected by a small enclosure to keep away souvenir hunters. Its trunk measured 52 feet in girth back in 1769, but many of its parts have since decayed. Seeds from the tree have been collected to be included in a project to conserve the genetic diversity of yew trees from across the world.
Yews are often found in churchyards. One found in a Welsh churchyard last year was declared as more than 5000 years old. Associated with pagan rituals, the trees were acquired as part of the church's attempt to wean away the masses. The yew's leaves resemble palm leaves and were commonly used on Palm Sunday for Easter rituals.