It will be their last release for a while so One Direction are working hard to make sure their upcoming fifth album will be one to remember. The British boy band are set to release Made In The A.M. in November before taking a lengthy break from the group to pursue their individual projects.
With fifth member Zayn Malik quitting the band in March 2015, recording the new LP has undoubtedly proved to be a unique experience for remaining singers Harry Styles, Louis Tomlinson, Niall Horan and Liam Payne. Specific details about the record have not been revealed but with the group announcing the album title and release date, it is the perfect time to gather everything we know so far about 1D's anticipated new LP...
RELEASE DATE
Directioners everywhere have no doubt declared Friday 13 November 2015 as "One Direction Day" as that is when Made In The A.M. is set to drop. For those too keen to wait until the official release date, the record is available for pre-order now.
Watch One Direction's Drag Me Down music video:
ALBUM TITLE
Fans are running wild with speculation that "A.M." stands for "After Malik" in reference to their former member. Given that it is their first album without the 22-year-old, it would certainly make sense for the boy band to mark the new era post-Zayn. Either that, or it could simply be a reference to the morning as "A.M.," ahem, usually stands for.
THE SOUND
In the words of the singers themselves, the producers who have worked on the record and their Syco record label boss Simon Cowell, here is a breakdown of how the group have developed their sound...
Harry Styles:
To Entertainment Weekly: "We're currently recording and writing our next album, so we'll be working on that. The songs are coming together quickly, so we're buzzing with the new stuff. It carries a slightly new identity. I think it's an obvious change from [Four] in a positive way. We've branched out and worked with different writers, and we've got some great songs!"
Liam Payne:
To radio station Capital FM: "The songs have been coming out a bit more chilled. We want this to be quite a long-lasting album that you can listen to anytime, like Ed [Sheeran]'s album. The new album is a bit Oasis-y."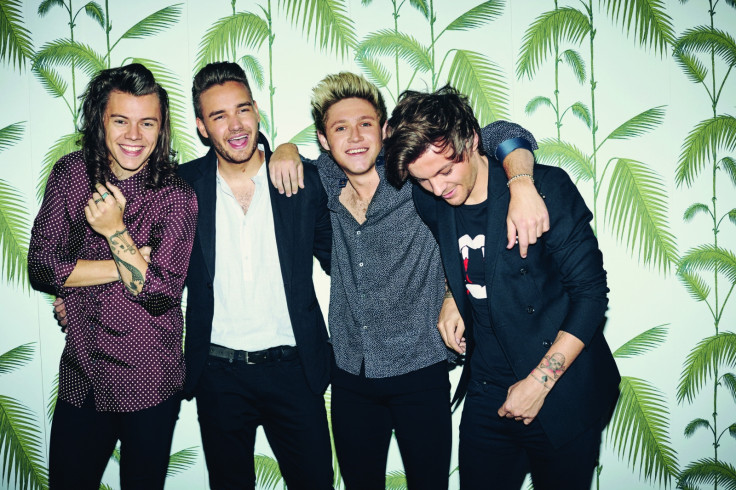 Simon Cowell:
To James Corden: "I have a feeling they are going to deliver this year the best record they've ever made. I've heard some of the early stuff. So I'm feeling good."
Music producer Julian Bunetta:
To Billboard: "There's a song about losing someone that isn't Zayn. There's also a song about the band being on shaky ground and not knowing what the future is. There are songs about love, there's a song that is a little more sexually charged. It's all over the map.
"Just strings and horns. We're stretching outside of the perimeters of what a traditional pop boy band would do. We're just kind of having fun. No rules. That's what it's been. We just wanted to make an album that had influences of all the previous albums, but then, an evolved version."
THE TRACKLIST
The final tracklist is yet to be revealed but, of course, lead single Drag Me Down is expected to feature on the record. In the days following its release in July 2015, the single was clocking up an average of 3.11m streams on Spotify, earning the singers an estimated $21,700 (£14,200) per day. In celebration of the album title announcement, 1D treated fans to hearing a new single from the album titled Infinity.
CHART RIVALRY
November is typically the most competitive month for releases in music with it being just in time for consumers to purchase records as Christmas presents. This year, the boys will go up against pop rival Justin Bieber whose record is out the same day while Adele is expected to drop her anticipated third studio album in November.