A documentary filmmaker has delved into the obsessional world of One Direction fans to find out what makes Harry, Zayn, Niall, Liam and Louie so special.
Fans of One Direction, or Directioners, are notoriously obsessional about the boyband that shot to fame on the X Factor in 2010.
They dedicate their lives to following the boys and go to great, often frightening, lengths to defend the band.
Band members' girlfriends have received death threats, some have offered to chop off limbs for 1D and others have said they will kill kittens to be in the same room as the boys.
Fans regularly camp out before and after concerts and monitor Twitter religiously to find out where members might be. They even book into hotels that they might be staying in.
There is also the idea of 'shipping', where fans fantasise about secret affairs between the band, hidden love and bromances. In these fantasies, the fanatics support the relationship and create their own artwork about their love.
Filmmaker Daily Asquith investigates these fanatics in an attempt to find out how the band has become so idolised by so many people across the globe - One Direction's Twitter group has 14,196,796 followers while Harry Styles has 15,216,299.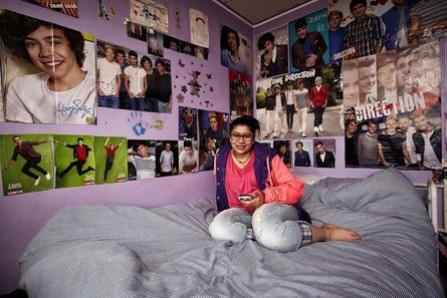 Styles' followers on Twitter have made the headlines on a number of occasions. When he tweeted his support for British tennis star Laura Robson during Wimbledon, she gained 20,000 fans - with most asking who she was.
In an interview with the Radio Times, Asquith said the Directioners were "really happy to let me in.
"I became a 16-year-old girl for three months. It gave me an idea why girls would choose to wait for 21 hours in the freezing rain outside a venue, only to meet their idols for two minutes. Or maybe not at all."
She said that fans occasionally get a response from members of One Direction on Twitter and that when they do "it's earth-shatteringly exciting".
"I think that's what makes it so addictive," she said. "They have this proximity to the band that teenage fans have never had before. The 'Hunt' as they call it, is also exciting. If one of the band is seen at a restaurant in Manchester, someone will tweet that. And the fans will be there in 15 minutes."
Explaining why she thinks their followers are so fanatic, she added: "The psychology of teenage girls and how they spend their love and choose to place it is very interesting.
"I was working out why they need to be in this gang, and what they get out of it. I think it is about not being with the boys so much as being with each other."
Crazy About One Direction is on Channel 4 at 10pm tonight (Thursday).