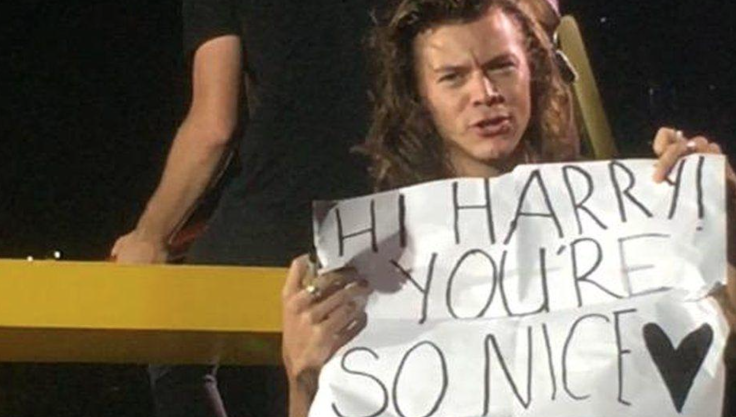 A One Direction fan got more than she bargained for when her handmade poster was noticed by singer Harry Styles, who decided to give her an impromptu grammar lesson during a gig in Philadelphia. Sixteen-year-old Taelor Ford made a sign for the concert that read: "Hi Harry, your so nice." During the show, Harry noticed the mistake - grabbing a pen and quickly changing the sign.
Taelor told BBC's Newsbeat: "He asked for a pen and for security to bring the sign to him. He fixed the spelling, he changed the 'your' to 'you're' and then he signed it, 'thank you, love Harry.' I actually wasn't embarrassed at all, I was kind of happy that I misspelt it," she said. "I'm not really good at English at all. But I'm just so happy one of them noticed the sign."
The poster has now taken pride of place on her bedroom wall, where it is destined to remain undisturbed for a while. "I don't want to touch it any more after the concert," Taelor told Newsbeat.
The North American leg of One Direction's On The Road Again tour will come to an end on 12 September and the tour will resume two weeks later in Europe, kicking off with a six-night marathon at London's O2 Arena.
Fans were distraught following last month's announcement that the group would disband in March 2016 to pursue solo projects. Singers Louis Tomlinson, Liam Payne, Harry Styles and Niall Horan will be wrapping up their latest world tour in Sheffield on 31 October, before embarking on a lengthy "hiatus" for the majority of 2016 to work on their own projects.