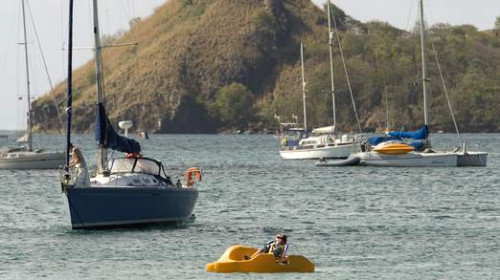 Three people have been arrested and a murder inquiry launched after a British man was killed on the island of St Lucia.
Roger Pratt was celebrating his wife Margaret's 60th birthday on a dream sailing trip to the Caribbean when a gang of thieves boarded the yacht and attacked the couple.
Pratt is believed to have been gunned down as he defended his wife from the three armed men who boarded the yacht on Friday night.
Officers were said to have then killed one of the suspects in a dramatic shoot-out that followed the murder, and arrested the remaining suspects.
Pratt was rushed to hospital, but died from his injuries. His wife was also taken to hospital with cuts and bruises and was later discharged.
St Lucian tourism minister Lorne Theophilus confirmed the news: "It is with much regret that I and other industry partners have learnt of the unfortunate incident which has resulted in the loss of life of a visitor to our shores.
"This is an active investigation and law enforcement is leading the charge in an attempt to bring the perpetrator or perpetrators to justice speedily.
"Law enforcement officials have briefed myself and other senior tourism officials on aspects of the case although I am not at liberty to share some of those details with you at this time."
The couple were half way through a year-long sailing adventure to celebrate Margaret Pratt's birthday.
They had been in St Lucia since mid-December and were planning to leave the island on Thursday, but could not get clearance from the customs authorities and were forced to spend the night in Vieux Fort.
The couple, keen sailors, have been posting pictures of their expedition around the Caribbean in an online blog.
Before leaving the UK in July last year, Margaret Pratt wrote on her LinkedIn page: "'Off travelling! The plan is to be in the Caribbean for my 60th birthday in January 2014.  .  . all a bit of a leap into the unknown."
The couple ran their own financial consultancy business, Okra Associates, based in Cannock, Staffordshire.
They lived together in a large £700,000 detached home in the historic village of Moreton Morrell in rural Warwickshire.
A spokesman for the Foreign and Commonwealth Office said: 'We are aware of the death of a British National in St Lucia. We are providing consular assistance to the family."