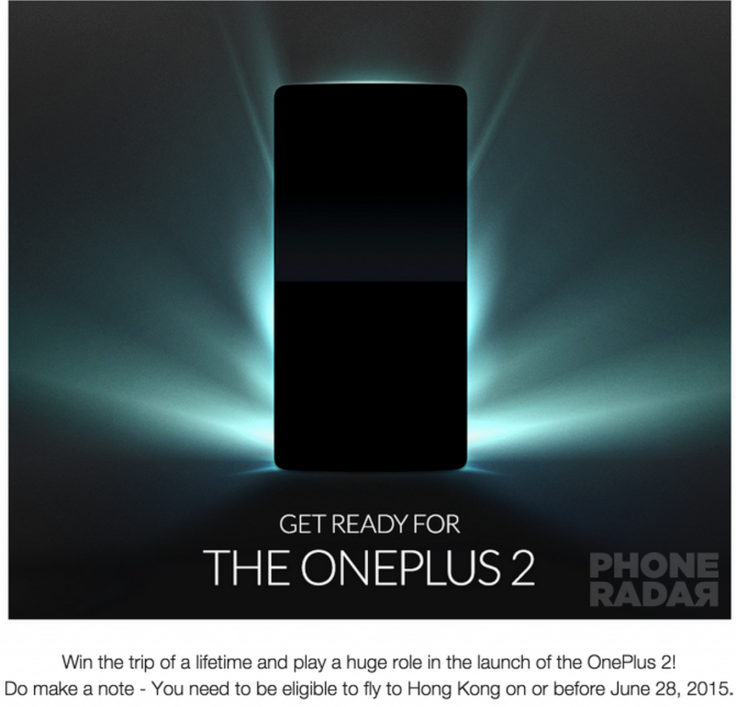 A new report suggests the highly anticipated OnePlus 2 will launch in Hong Kong on 28 June.
The leaked invite was uncovered by PhonesRadar and would seem to suggest that the Chinese company will be looking to build up a lot of anticipation around the launch.
OnePlus, a Chinese smartphone start-up, has sold over one million smartphones since launching 18 months ago. While this is insignificant compared with industry giants Apple, Samsung and Xiaomi, the company has built up a big cadre of loyal fans who are eager to see what the company produces next.
The OnePlus 2 has received a lot of attention from customers hoping that it will provide a similar combination of high-end specs and low price, but last month the company's co-founders seemed to suggest that it would cost $400 (£257) when it goes on sale, $100 more than the original.
One of the co-founders, Carl Pei, recently revealed the company is already in talks with venture capital funds in Silicon Valley about an investment that will see the company boost its workforce to 1,500 by the end of 2015, as it looks to continue its rapid growth.
The company is planning on launching a more budget-focused smartphone alongside the OnePlus 2 later this year, but little is known about that device.
What we know about the OnePlus 2 is that it will be launched sometime in the second half of 2015, will feature a SnapDragon 810 chip it and will run the company's own Oxygen OS, after the firm announced plans to develop its own software in place of the Cyanogen OS that ran on the OnePlus One.
Speculation suggests it will come with a large 5.5in high resolution 2K screen along with 3GB of RAM and a 16 megapixel camera.