Luxury fashion brands are defying unstable economic times and reporting increasing growth.
Fashion site shopstyle.co.uk has seen a surge in online traffic with new interest in high-end labels such as Ralph Lauren and Alexander McQueen.
During 2011, the site doubled its listed brands from 2,000 to 4,000 from more than 145 stores.
Searches for the top 10 luxury brands listed on the fashion site increased by 49 percent year-on-year. The site saw a 63 percent growth in unique users.
It topped 1.3m monthly unique users, increasing by 500,000 in 2011, predominantly fuelled by large increases in luxury brand activity online.
Shannon Edwards, Europe's vice-president and managing director for Sugar Inc, the company that operates shopstyle, said 2011 was the year that luxury "really came into its own online".
"Despite the uncertain economic conditions, we are experiencing growing registrations and visits to our site, and huge increases in searches for luxury labels. Luxury fashion is experiencing enormous traction through social media, and our own style book community is no exception. Our users are collecting key pieces and creating looks with them before investing in these high-ticket items."
Edwards put the influence down to luxury brands discounting their ranges, more selection in versatile off-season garments and the idea that luxury is aspirational.
"Luxury is always very aspirational so that can be even more inspiring during tough times. A lot of it does come down to aspiration. People are interested in having a luxury brand item."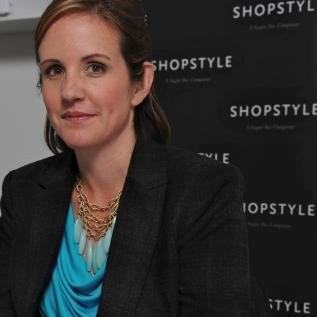 Edwards said luxury brands often appealed to shoppers because they appreciate good design and the value associated with luxury brands - regardless of the name.
Purchasing investment pieces is also common during recession times, said Edwards, as is the heightened awareness of the environment, meaning people want to consume fashion more sustainably and are more sensitive to the value of buying high-quality, investment items.
Conversely, during tough economic times people often feel they are worthy of a treat or reward after working hard and reining in spending, said Edwards. She added that people are more likely to spend the money they do have on a quality or luxury item.
"It's tough times and regardless of what's going on with the economy people want to treat themselves.
"There's an element where people become more knowledgeable and their taste for luxury increases the idea of good value and good investment - which all creates a perfect storm for the luxury department."
She cited fashion icons such as Kate Middleton for making consumers aware of certain brands that they may not have known about previously. "Online searches and purchases of items worn by Kate spiked instantly after she was seen wearing them. We often see an overlay with pop culture and luxury brands."
The trend follows a recent announcement by British luxury retailer Burberry of a 21 percent increase in revenue for 2011, pushing total revenue for the year to £574m, up from £480m the previous year.
It also follows reports of strong sales across luxury goods in the UK for 2011 which pointed to increased sales from customers in Asia, including China.
Luxury fashion label Ralph Lauren has reported better-than-expected results for the holiday quarter, helped by double-digit sales growth, with shares rising by more than 10 percent.