Oprah Winfrey 'snubs' Meghan Markle, Prince Harry at star-studded birthday party
The Duke and Duchess of Sussex have been lying low since the release of "Spare" and "Harry & Meghan".
A columnist suggested that Oprah Winfrey snubbed Prince Harry and Meghan Markle from her 69th birthday bash on Jan. 29 because the couple was noticeably absent from the list of celebrity guests.
Kim Kardashian, Sharon Stone, and Jessica Alba, to name a few, were among the guests at the star-studded party. Many had expected the Duke and Duchess of Sussex to be there too given that they have been friends with the talk show host.
Winfrey was among the guests at their wedding in the U.K. in May 2018. She also interviewed the couple in March 2021 following their exit from royal life. Aside from the birthday bash, Prince Harry and Meghan Markle also skipped the 25th anniversary of the cosmetics company Anastasia Beverly Hills, which Winfrey, Heidi Klum, Kim Kardashian, and Jennifer Lopez. among others, attended.
Columnist Kara Kennedy called the couple's absence a "snub" by the American elite. She wrote in her piece for The Spectator, "Snubs like this show that the tide is turning with the Sussexes - and that the gamble that saw them trade in the lifelong duty of being working royalty for the money and fame of being celebrities hasn't paid off."
Referencing their interview with Winfrey, she added, "This was Harry and Meghan's campaign to finish off the British monarchy — and they used Oprah as a pawn." She cited an unnamed Hollywood insider who claimed that Prince Harry and Meghan Markle "equal drama" so the public is "starting to realise that they never intended on having a quiet life."
However, royal author Christopher Andersen explained that their absence at these two high-profile events has something to do with King Charles III's upcoming coronation. They reportedly do not want to attract negative headlines and Winfrey understands them.
He told Fox News Digital, "I have to be honest., I've interviewed Oprah several times over the years, starting when she first burst onto the national scene in the 1980s. If there is one thing Oprah is, it's loyal. I think people are reading a lot more into this supposed snub than they should."
The biographer said his analysis of "the situation is that both Oprah and the Sussexes realise this is a very delicate moment for Harry and Meghan as we approach the coronation of King Charles." He added that "appearing at such a glitzy, high-profile event with Hollywood A-listers to honor Oprah is not what the Sussexes need right now."
Andersen said their presence at these parties "would certainly rub King Charles the wrong way, not to mention an already hostile British public." He is certain that Prince Harry and Meghan Markle "remain on friendly terms and are keeping the whole Oprah/H&M thing on the down-low."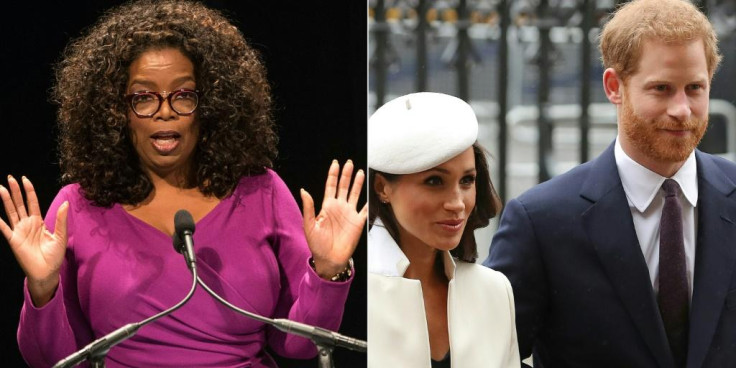 © Copyright IBTimes 2023. All rights reserved.