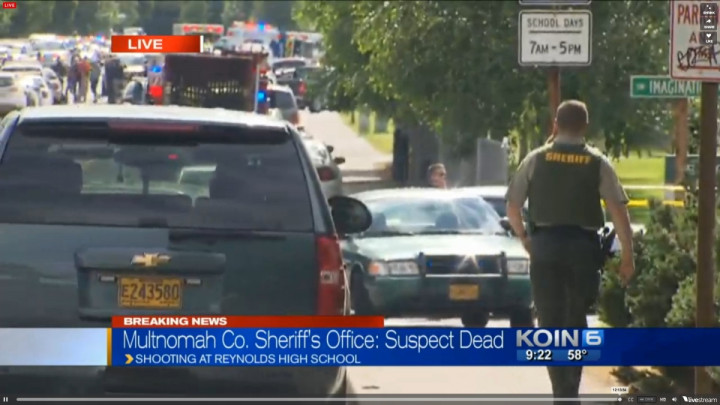 Police in Oregon said one student was shot dead by a gunman who opened fire at a high school near Portland.
Police were called at a Reynolds high school in Troutdale, following reports of gunfire at about 8 am local time.
About 60 police arrived at the scene. Law enforcement officials told parents to go to a nearby parking lot to meet with their sons and daughters as they evacuated the school.
Live footage from the scene showed students being led out with their hands on their heads.
Moments later the shooter was confirmed dead by the local sheriff's office. A police spokesman said that a gunman, who has not been named, shot and killed one student. The gunman was then located and is now deceased, police said.
According to media reports the suspect was cornered in a bathroom by five police officers.
The attacker was reportedly wearing tactical gear described as a black vest and a helmet and was armed with an automatic weapon, possibly an AR-15 rifle.
Police said they were in the process of clearing the school building.
Troutdale is situated 16 miles east of Portland. Students were in their last week of school, the last day of lesson being scheduled for Wednesday.