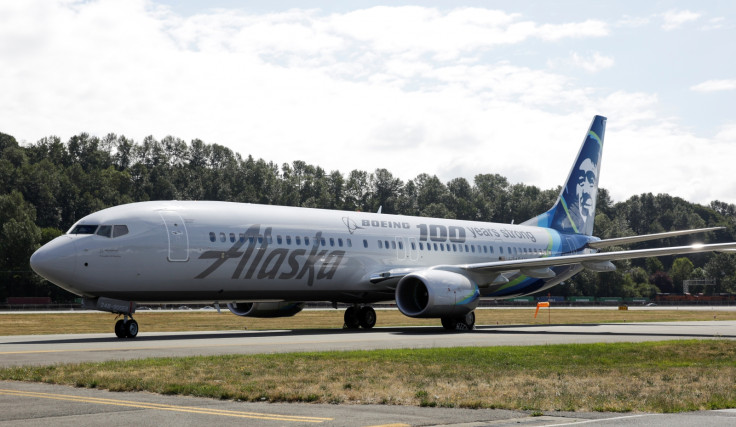 An Oregon woman was sentenced to eight months of home detention and three years of probation for licking and groping a fellow passenger aboard an Alaska Airlines flight last year, court documents reveal.
Heidi McKinney, 27, was arrested 8 May 2016 after the flight from Las Vegas, Nevada landed at Portland International Airport, Fox News reported. McKinney, from suburban Portland, had smuggled alcohol aboard the commercial flight.
The 19-year-old victim told police that she had been touched on the breast and genitals by a fellow female passenger. Court documents said McKinney took her seat in the victim's row and put her hands on the passenger's chest, "allowing her hands to linger there uncomfortably".
Prosecutors claimed that when the plane took off, McKinney pressured the victim to drink the smuggled liquor and when the victim refused, she threw the bottle into her lap. McKinney then licked the victim's ear, grabbed her hands and tried to place her hands on the victim's crotch three different times.
The incident escalated with McKinney "climbing on top of the victim and telling the victim that she wanted to [redacted]," court documents obtained by KOIN-TV show.
"Miss McKinney did so with the intent to humiliate and harass the victim," said Assistant US Attorney Ravi Sinha in court in March. "(She) both made contact with the victim's body, including her inner thigh, and made a series of profane and lewd statements to the victim."
McKinney was originally indicted by a federal grand jury on a charge of abusive sexual contact. She pleaded guilty in March to assault with the intent to commit a felony.
According to KOIN-TV, court documents reveal that shortly after taking a plea deal in March, McKinney was found intoxicated and unconscious at a local bar. The Portland woman completed an inpatient treatment programme in June, Fox News reported.
McKinney did not speak at her sentencing but wrote the victim a letter of apology, the Oregonian reported.
The victim was reportedly too emotional to give her prepared statement in court. Instead, her grandmother walked up and gave the remarks. "I personally don't feel you know how much damage you have caused me,'' the victim wrote. "That day you messed with my head and took something from me that I will never get back.''
The victim said that she forgave McKinney because she felt she needed to move on with her life and hope McKinney would get the help she needs, according to the Oregonian.