Islamic State (Isis) has apparently been "celebrating" the savage attack against innocent revellers at the Orlando nightclub Pulse amid reports of the militant group claiming responsibility.
The IS-linked news agency Amaq quoted a statement: "The attack that targeted a nightclub for homosexuals in Orlando, Florida and that more than 100 dead and wounded was carried out an Islamic State fighter".
However, Amaq gave no further details and did not identify their sources, Sky News reported.
While there has been no official claim of responsibility for the mass killing, Rita Katz, Director of SITE Intelligence Group, a global counter-terrorism organisation, claims Twitter accounts affiliated with the terror group have been praising Mateen chillingly describing the killings as the "best Ramadan gift".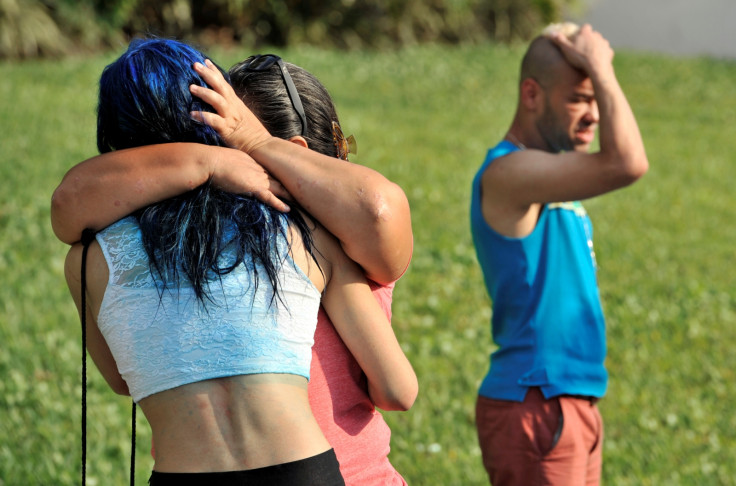 One account posted the gunman's picture with the caption: "The man who carried out the Florida nightclub attack which killed 50 people and injured dozens."
In another account, there was a stark warning of more attacks to come. "We swear to Allah that we will kill you everywhere O disbeliever," wrote the follower, according to the Mail Online. "Take your troops out if our countries and stop support your followers or else you will see more and more blood."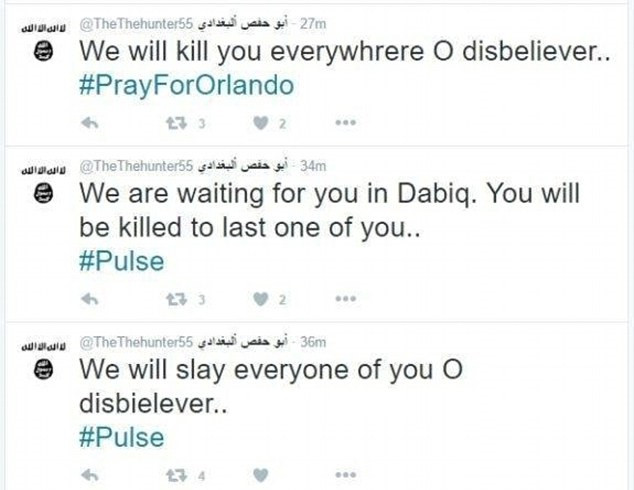 Florida Department of Law Enforcement Special Agent in Charge Danny Banks said the mass shooting is being investigated as an act of terrorism and it has been described by US President Barack Obama as "an act of terror" and "an act of hate" although he refrained from making a direct connection with any Islamist terror group.
When questioned as to whether Mateen had any connection to radical Islamic terrorism, FBI agent Ron Hopper said there were "suggestions that individual has leanings towards that". It has been confirmed that Mateen, who is a US citizen of Afghan origin, was investigated and interviewed by the FBI on two occasions in 2013.
He was back on their radar in 2015 after they found possible ties with American suicide bomber Moner Abu Salha, but determined that Mateen's contact was minimal and it was decided he did not constitute a significant threat. The investigation was closed and Mateen was no longer under surveillance.
Hopper said in a statement: "The FBI first became aware of Mateen in 2013 as he made inflammatory comments to coworkers, alleging possible terrorist ties. The FBI thoroughly investigated the matter including interviews of witnesses, physical surveillance and records checks.
Ultimately we were unable to verify the substance of his comments, and the investigation was closed."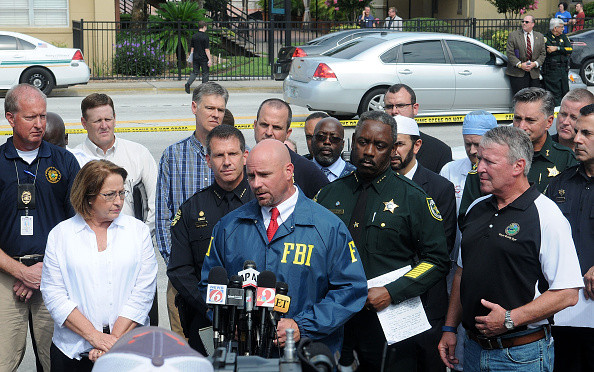 As Mateen was no longer under investigation, he was able to purchase two weapons legally in the last week, the Bureau of Alcohol, Tobacco and Firearms confirmed. "He is not a prohibitive person so he can legally walk into a gun dealership," the representative from the ATF said. "He did so within the last week or so."
While it has been confirmed that prior to the shooting Mateen had called 911 to pledge his allegiance to IS, it is not yet known if he had any direct contact and was trained by the terror group or was self-radicalised and operating as a lone wolf. There is speculation that IS might claim "credit" for Mateen's actions though.
The gunman's father has since apologized to the victims, claiming Mateen had no direct links to any terror group but admitted he was homophobic. He alleges that he embarked on the killing spree after he took offence at seeing two men kissing. "This has nothing to do with religion," he said. "We are saying we are apologizing for the whole incident. We weren't aware of any action he is taking. We are in shock like the whole country."
The attack which has become the worst mass shooting in US history has prompted an outpouring of public grief and support for the LGBT community.