The Ethiopian government has claimed it will treat Olympics silver medal winner Feyisa Lilesa as a hero upon his return to his homeland. The runner has made headlines for staging a protest against alleged abuses committed by his government.
As he crossed the finish line of the men's marathon on Sunday (21 August), Lilesa crossed his arms over his head, a symbol of resistance common among Omoro people, Ethiopia's largest ethnic group.
Information Minister Getachew Reda told the BBC the government had no reason to arrest him and it respected his political opinions. Reda made the comments after Lilesa alleged the Ethiopian government "are killing the Oromo people and taking their land and resources."
The athlete, an ethnic Oromo, also added during a press conference following the award ceremony: "The Oromo people are protesting and I support the protest as I am Oromo." He added he feared for his life and wanted to move to another country.
Meanwhile, Lilesa's supporters set up a crowdfunding campaign to support him seeking asylum. The organisers have managed to raise more than $36,000 in less than 24 hours.
Protests in Oromia
Earlier in August anti-government demonstrations in Oromia led to the death of at least 67 people, according to opposition members and Amnesty International.
The demonstrations were the culmination of a wave of unrest that has rocked Oromia in recent months.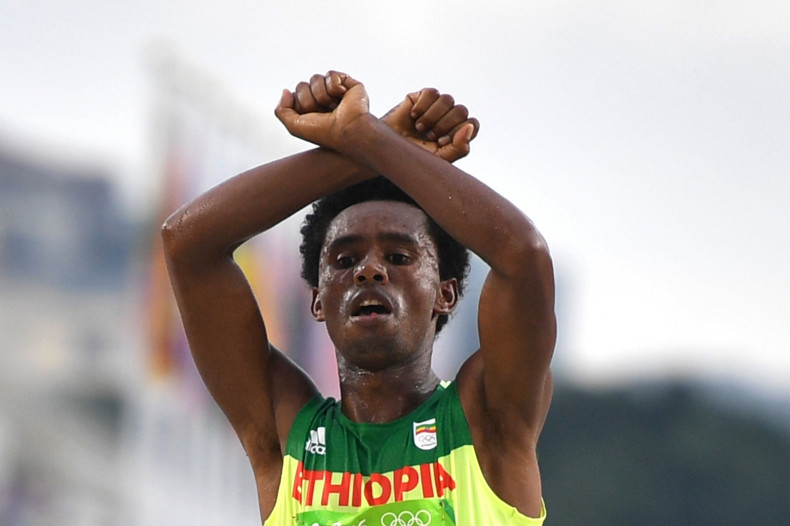 Protesters first took to the streets in November 2015 to voice their dissent against a government draft plan that aimed to expand the boundaries of the capital Addis Ababa.
They argued the so-called "Addis Ababa master plan" would lead to forced evictions of Oromo farmers who will lose their land and would undermine the survival of the Oromo culture and language.
The Ethiopian government scrapped the master plan following increasing agitation which activists claimed led to the death of at least 400 people.
People are now calling for self-rule, the liberation of political prisoners, the end of what they perceive as "military regime" in the region. This includes the cessation of an alleged crackdown by security forces on "peaceful and unarmed" demonstrators, mainly students and farmers.
Authorities blamed foreign enemies for the unrest and deemed the recent protests as illegal.