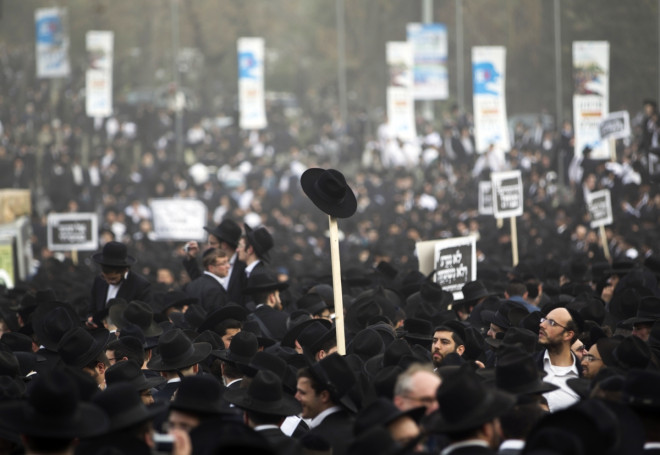 Hundreds of thousands of men and boys wearing black hats, dark suits, white shirts and some in sackcloth have marched through Jerusalem in protest at government plans that would force their young people to be conscripted into the military, like other groups within the country.
In a rare show of solidarity, members of the Lithuanian, Hassidic and Sephardi sects – known collectively as the Haredim community - bore aloft placards with slogans such as "Torah of Moshe" and "war on religion" and took part in a mass prayer led by a cantor. Some 3,500 members of the security forces were placed on alert.
The coalition government of Israel wants to extend military service to those from communities that have traditionally been exempt - mainly those from the Haredim and also Palestinians. Israel's finance minister Yair Lapid, who is one of the main forces behind the proposed changes, has received death threats.
Around one in ten of Israel's population is Haredim; they are also allowed to refuse work, being educated full-time at the tax-payers' expense. As many from the community have large families – an average of five children – they often exist below the poverty line.
As with the exemption from military service, this agreement goes back to a deal made between Prime Minister Ben Gurion and the Haredi Rabbinate, so any change would be controversial. However, many Israelis are forced by law to enlist at the age of 18 for three years of service and believe it is unfair that people from the ultra-Orthodox community are allowed to opt out.
Similar demonstrations in the past have sometimes turned violent, with protesters throwing bottles and stones at police, who responded with stun-grenades.
Aryeh Deri, one of those behind the protests, pleaded with supporters not to allow this demonstration to turn violent: "I beseech the young people, please, I beg of you, heaven forbid there should be any desecration of God's name... There may be provocations... be careful."