Since its release in November 2015, Brooklyn has earned itself multiple award show nominations with boards such as the Screen Actors Guild, Golden Globes and most recently, the Oscars, and now it is being turned into a television series. Unfortunately, the film's leading lady Saoirse Ronan will not be starring in the BBC-planned drama.
According to Variety, while Ronan won't be signing on for the show, probably because her career is soaring in Hollywood right now, her co-star in the film Julie Walters will be returning. The 65-year-old English actress is set to reprise her role as landlady Ma Kehoe, a part which earned her both Bafta and the British Independent Film Awards nominations. Finola Dwyer and Amanda Posey's Wildgaze Films produced the John Crowley-directed film and will return to produce this version from BBC.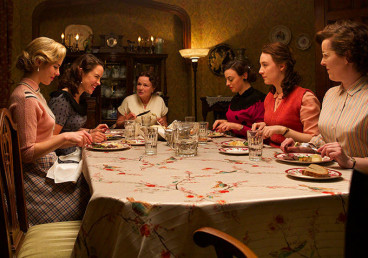 The aim of the show is reportedly to focus on Kehoe's New York boarding house and the same group of Irish, British and American young women. Currently, not much else is known about the project, though it is expected that writers for the series will be hired – and announced – soon.
The original movie – adapted from Colm Tóibín's book by Nick Hornby – tells the story of young Irish immigrant Eilis Lacey, who moves to the titular New York City borough in the 1950s. During her time there, she quickly falls into a romance with an Italian local. However, when her living situation suddenly changes as events back home force her to return to Ireland, she must choose between the two countries she loves and the lives she's made for herself within them.
Other famous faces that appear in the movie include Emory Cohen, Domhnall Gleeson, Mad Men's Jessica Paré, Emily Bett Rickards and Jim Broadbent.
Despite Brooklyn having a strong award season presence and it going down well with both critics and cinemagoers who actually saw it, commercially it didn't do all that well raking in just $40m (£27.5m) worldwide at the box office, so it's quite surprising that the BBC is so keen to capitalise on the same kind of story. Maybe because it is a period piece and its story is much more subtle than dramatic, perhaps the BBC is hoping this will be its answer to ITV's hugely successful Downton Abbey.
For more entertainment news follow A-List on Twitter @Alistinsider