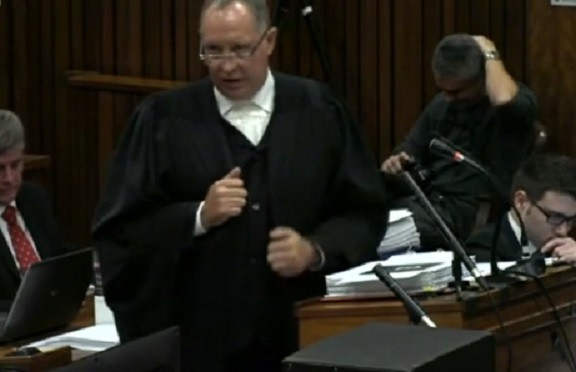 Oscar Pistorius heard his lawyer try to discredit the testimony of witness Anette Stipp at his murder trial as the trial entered its fourth week.
Lawyer Kenny Oldwage sought to dismantle the evidence of neighbour Anette Stipp, concerning the night Reeva Steenkamp, 29, was shot dead by Pistorius.
Stipp told North Gauteng High Court she was "absolutely convinced" she heard an argument between the couple on Valentine's Day last year.
She said: "It was continuous screaming. In my recollection I'm absolutely 100% convinced it was a woman ... I could not make out what she was screaming, it was just screams."
Oldwage replied: "You cannot with any degree of certainty tell us what this person was screaming." He then raised the point from earlier in proceedings, that the screams were in fact those of Pistorius, who it was said screamed like a woman.
Stipp also claimed she heard only three shots, instead of the four which Pistorius fired through his bathroom door. Oldwage said the firing of four gunshots was "common cause" – meaning it is agreed upon by both defence and prosecution in the case.
Oldwage said it was "improbable" Stipp could have missed one shot had she been in a "high state of alertness".
Stipp also admitted that she "cannot remember" if she heard dogs barking on the night of the killing.
In response, Oldwage said: "Perhaps there should be a little bit of doubt in your mind that you have as good and clear recollection of events that night."
Stipp declined to agree with this point.
Stipp was questioned about whether she had heard evidence given by her husband, fellow witness Johan Stipp.
Oldwage chastised Stipp for "interrupting" him, saying he would not cut across her and expected the same in return.
The Olympian and Paralympian runner has been forced to sell his luxury home in order to cover mounting legal fees as the trial continues.
Pistorius denies murder and claims he thought Steenkamp was an intruder inside his luxury home on the outskirts of Pretoria. The prosecution alleges he killed her following an argument between the pair.
The trial continues.