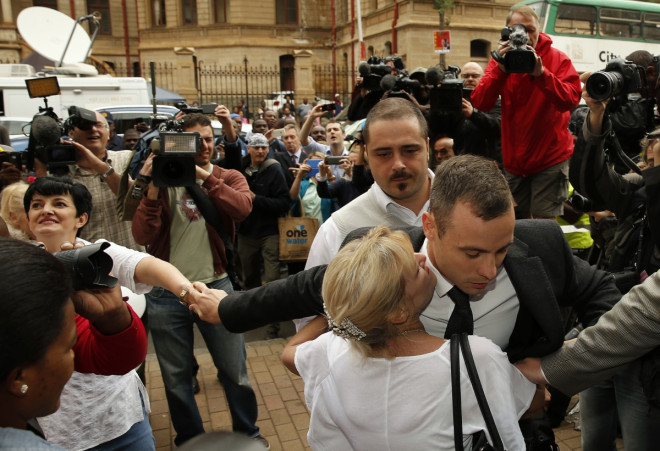 Oscar Pistorius embraced a blonde woman as he arrived for another gruelling day at his murder trial.
The woman was among a group of wellwishers waiting for the disabled star at North Gauteng High Court.
She stepped in to his path and appeared to plant a kiss on the killer's face or whisper something in his ear.
Pistorius clasped her to him briefly and then freed himself from her embrace to march in to court.
The 27-year-old Olympian and Paralympian runner faces a scrum every day he arrives and leaves the building where he is standing trial for shooting dead Reeva Steenkamp, 29. He denies murder.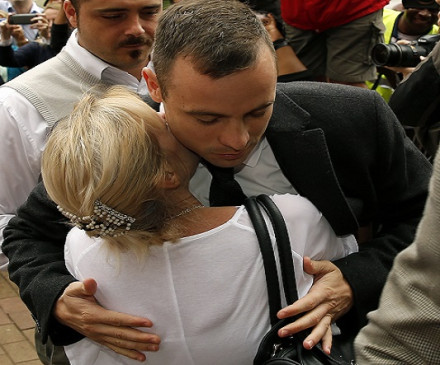 Pistorius has begun his second week of giving evidence in the witness box under forensic cross-examination by prosecutor Gerrie Nel.
Appearing distraught and repeatedly breaking down in the face of Nel's tough questioning may have sparked sympathy among some trial observers for Pistorius, who looks emotionally wrecked by the experience.
His model girlfriend died of devastating gunshot injuries after he fired four through a bathroom door at his luxury home on Valentine's Day 2013.
Reeva's sister Simone branded Pistorius a "disgusting" liar" and claimed he did not care about her. Steenkamp, 48, told the Daily Mail: "He is trying to convince the court that they were really close and that he cared for her. It's not true. He is a disgusting liar."
Pistorius denies pre-meditated murder and claims he mistook Steenkamp for an intruder inside his Pretoria home. The prosecution alleges he killed her after an argument between the two.
The trial continues.