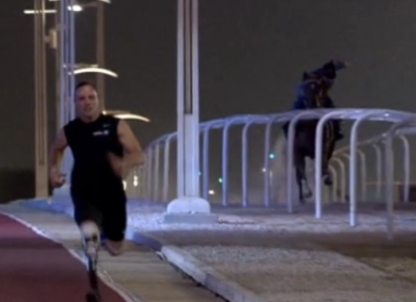 Oscar Pistorius has taken his quest to change perceptions of disabled sport to another unusual place - by racing against a horse in Doha.
The South African speed king spends much of his running career overturning expectations. Over the summer the Parlympian took part in the regular Olympics Games in London against non-dsiabled runners.
So it was no surprise to see him go blade to hoof against an Arab horse. The creature was picked because of the special place it occupies in local culture.
And he beat his equine opponent in what was a rare win for a man against a horse.
Pistorius said: "Hopefully [the race] will do a lot to change the perception of people with disabilities in this region.
"It was not about who won, it was about coming here and showing that people with disabilities are not to be stereotyped.
"The Arab horse is a symbol of strength and power in this region so to be able to come and do this showpiece event was a lot of fun."