Oscar Pistorius was quiet and impassive as he was jailed at the end of a lengthy trial which has completed his fall from grace.
In stark contrast to his highly emotional behaviour during the trial, Pistorius, 27, hardly moved a muscle as he was given five years in prison by Judge Thokozile Masipa.
His docile behaviour came after months where he wept and vomited in public as he was forced to confront his crime during harrowing cross-examination.
Pistorius has plunged from the heights of global adulation to the prospect of going to prison as a convicted killer. His downfall, one of truly Shakespearean proportions, today reached its moment of final reckoning.
Yet Pistorius hardly blinked; he only looked straight ahead. It was unexpected in the context of what we have seen in the months since the proceedings began.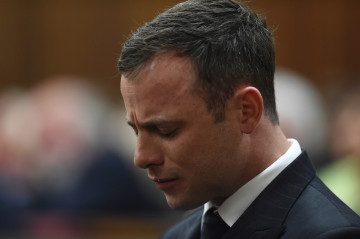 At times, the trial had to be adjourned because the former track idol was incapable of continuing to answer questions.
So has Pistorius achieved some form of acceptance, which means he no longer cries over the dreadful tragedy of which he was the architect?
Or is he heavily medicated on prescription pills which are dampening his emotions?
The answer is not clear, but the contrast in his behaviour certainly is.
Pistorius stood still as he heard he was to be jailed. In that moment, he remained in control of his emotions.
The world's most famous athlete was then led quietly down steps into the bowels of North Gauteng High Court and in to a holding cell.
Pistorius was seized by staff because bail is automatically revoked by the sentence, meaning that a jail cell awaits the athlete, instead of his uncle's home - where he has stayed since the trial began in March.
Pistorius' family did not say anything after seeing the sentence delivered by Judge Masipa.