A friend of Oscar Pistorius has revealed that the former Paralympian is "terrified" of returning to prison and has suggested that he "might do something stupid" rather than face a life behind bars. On December 4, South Africa's Supreme Court of Appeal overturned Pistorius' manslaughter conviction and found him guilty of murdering Reeva Steenkamp.
The 29-year-old was shot dead in Pistorius's home in Pretoria on 14 February 2013. Reading the murder verdict Justice Eric Leach described the case as "a human tragedy of Shakespearean proportions" and said that the previous ruling was fundamentally flawed. Pistorius, who is currently under house arrest after serving one year of a five-year sentence, will be referred back to Judge Masipa for sentencing under a murder charge. He faces a minimum of 15 years in prison.
In an interview with Mail Online, South Africa's cruiserweight boxing champion Kevin Lerena revealed that the sprinter has expressed his terror at the prospect of being incarcerated again. He said: "I don't want to go back to jail. It's a terrible place, so disgusting you can't imagine."
Lerena described Pistorious as depressed and "so low and without anything to live for". He suggested he might "do something stupid" rather than go back to prison. "He has been left so down and broken by just one year inside. I don't even want to think about what is going to happen to him if he goes back for any longer. I don't think he will be able to handle it," Lerena said.
"I am just worried he is going to do something stupid. He just seems to have given up on life. I know they don't let them have anything in jail that they can harm themselves with, but, you know, this is South Africa, and you can buy stuff you want, even in jail."
He revealed that the athlete has lost all interest in training and women as he faces the prospect of a long jail sentence fearing that "the odds are against him." "I know there's a gym at the uncle's place and I offered to go for some training sessions together. But Oscar just wasn't interested," he said. "He just kept saying how low he felt, how tired he was. He kept talking about how hard prison had been for him.
"He has obviously been completely broken by it. He seemed despondent – as if there was no point in training because he didn't have any future in sport. I was expecting him to want to get back into shape straight away. It's as if he has just given up on it. He's in a terrible space." He revealed that Pistorius told him: "I can't think about anything else right now apart from what's coming up next for me, it's big."
The double amputee has reportedly been inundated with letters from female fans during his incarceration, but when Lerena asked about any potential new relationship Pistorius said he had no interest in anyone and was thinking only of Reeva. Lerena said: "I asked him straight out – was there anyone in his life now that he was out? He said straight away 'not at all, far from it'. He was quite firm about that. He told me how much he loved Reeva and how much he still missed her. He really sounded in pain about it. He said he thought about her all the time.
"Oscar used to love women and his training - it's as if he has lost all interest in the things that were once the most important things in the world to him, the things he lived for. I know that his religion has now become very important to him, I hope it pulls him through this."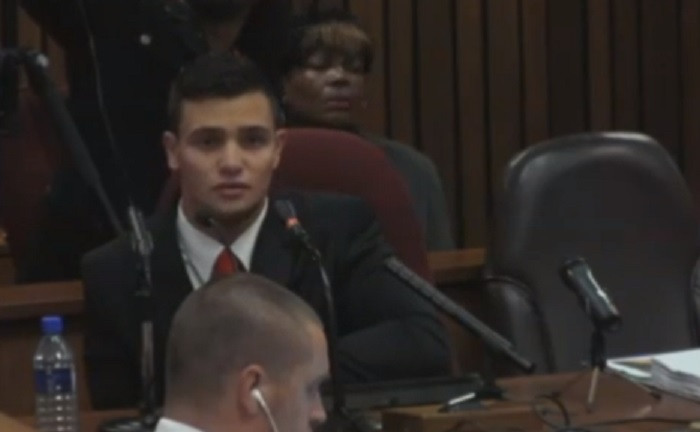 Pistorious had earlier accused Lerena of betraying him after he gave evidence against the sportsman during his murder trial, in connection with an incident in which the Paralympian accidentally let off a gun under a table in a Johannesburg restaurant. Pistorius was later charged with firearms offences over the episode and Lerena was called to give evidence against him. Despite his feelings of betrayal the pair reconciled after Pistorius was released from prison into house arrest, but the runner said he felt abandoned by his former friends.
"Oscar told me how let down he had felt because I had testified against him," said Lerena. "I explained that I didn't have any choice, that I had been subpoenaed to give evidence and that it had been hard for me to do it. But he wouldn't accept it. He insisted that I could have refused to do it.
"He told me I wasn't the only friend to have let him down, he was very upset that a lot of friends have dropped him and walked away. He thought people would be there for him, but they haven't been. He just sounded so lonely and sad. Friends were very important to Oscar."
"I hope we get a chance to chat before he is back in court, or jail. I just wanted him to know that I am thinking of him. No-one knows what happened that night Reeva was killed. I asked Oscar outright what had gone on. He told me 'God knows what really happened that night'. He said he didn't feel he had to justify his actions to anyone as he and God knew the true story."
Pistorius will remain under house arrest at his uncle's home in Pretoria until a date is set for the hearing.