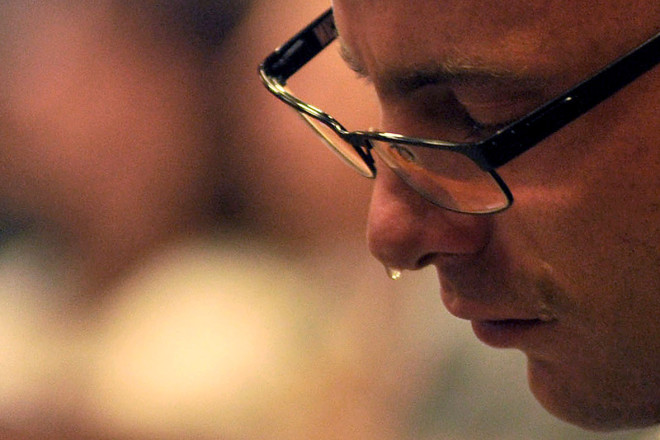 Oscar Pistorius was rebuked by the judge during a fifth gruelling day of evidence at his murder trial.
Pistorius struggled under questioning by prosecution counsel Gerrie Nel about whether or not he turned off the alarm system in his house on the night Steenkamp died.
The prosecutor told him: "Your mistakes are as convincing as your evidence and way you deliver it. That is a problem."
Pistorius claimed he was being inconsistent in some of his answers because he was "tired." Nel accused him of "tailoring evidence".
The runner's excuse about exhaustion at the witness stand brought an intervention from judge Maispa. She issued a rebuke to the Olympian and Paralympian, saying: "It's important that you should be all here when you're in that witness box.
"If the reason you're making all these mistakes is that you're tired, then you must say so. It doesn't help to make all these mistakes," she warned.
Nel claimed Pistorius shot Reeva Steenkamp dead while she stood on the other side of the bathroom door at his luxury home, having fled the runner during an argument.
Pistorius denied he went toward the bathroom with the gun because he was angry with Steenkamp. He insisted it was because he was convinced an intruder had climbed in through the window.
The prosecutor questioned why Pistorius went there if he was feeling "vulnerable" that an intruder was in there.
Nel said: "You went towards the danger. Why did you do that? The fact is if you had stayed in the room Reeva would be alive. You said you felt vulnerable but you approached the danger. The two don't make sense."
He said: "If she had been scared she would have hidden somewhere in the toilet. She was standing in front of the toilet door talking to you when you shot," he said. "That's the only reason she was standing [there] when you shot her in the head: she was scared of you."
Nel questioned why Pistorius would think someone would want to attack him. The runner said he regularly heard about incidents where residents were tied up in their homes or sprayed with MACE by raiders.
Nel replied: "You knew Reeva Steenkamp was behind the door and you shot at her. That's the only thing that makes sense."
Pistorius denies murder and claims he mistook Steenkamp for an intruder inside his luxury home on the outskirts of Pretoria. The prosecution alleges he killed her following an argument between the couple.
The trial continues.