Oscar Pistorius released under house arrest: Key moments since shooting of Reeva Steenkamp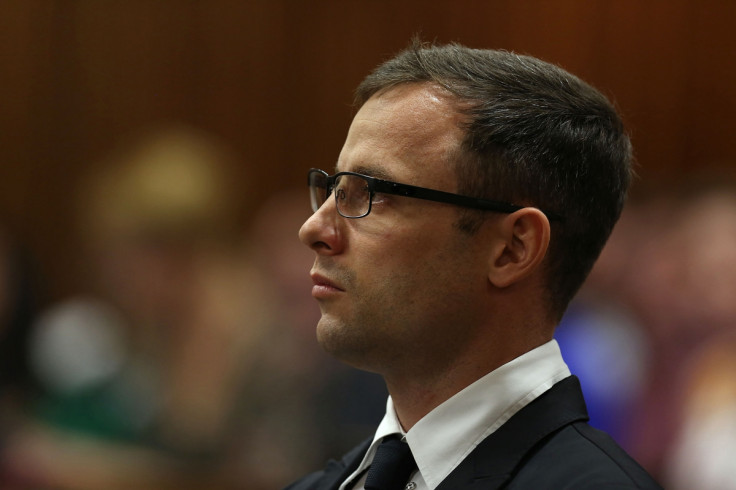 Athlete Oscar Pistorius is to be freed from prison and moved to house arrest this week after serving 11 months of his five-year sentence for killing his girlfriend. Pistorius was found guilty of culpable homicide last year, having been cleared of premeditated and second-degree murder by a Pretoria court. He shot model and law graduate Reeva Steenkamp through a locked bathroom door on Valentine's Day in 2013, but said he thought she was an intruder.
The South African parole board has said Pistorius will be released on 20 October under what is termed "correctional supervision" in South Africa. Ahead of his release, here are some of the key moments since Reeva Steenkamp was killed.
14 February 2013: Steenkamp was shot
Pistorius fired four bullets into Steenkamp's head, chest and arm at his home in Pretoria, in an exclusive gated community, at around 3am. The Olympian and Paralympian had reportedly awoken in the night and moved a fan from the balcony doorway to the room, but heard a noise in the balcony when he returned, which he said he believed was an intruder.
He says he fired the four shots through the bathroom door believing Steenkamp was in bed, maintaining he discovered she was not there when he returned to the bedroom. Police said paramedics were already near the scene but when they arrived, Steenkamp was pronounced dead.
No signs of forced entry were found and officers said Pistorius and Steenkamp were the only people in the house. They added that neighbours heard "screaming and shouting" around the time of the shooting.
19 February 2013: Bail hearing began
Pistorius's four-day bail hearing began and he revealed in his defence that he believed Steenkamp was an intruder. Magistrate Desmond Nair ruled that Pistorius would be charged with a Section 6 criminal offence, which includes premeditated murder.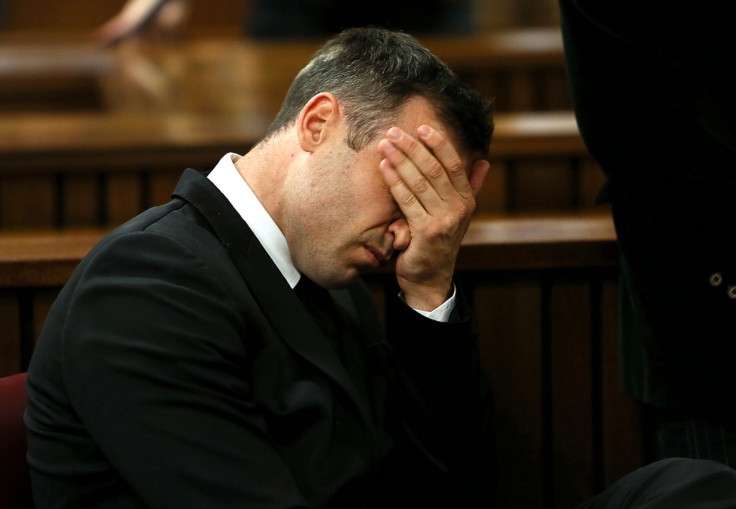 14 February 2014: Pistorius broke silence and released a statement on the first anniversary of Steenkamp's death
After a year of silence, Pistorius posted a statement on his website on the first anniversary of the shooting. He announced the statement in a tweet, posted at 1am, just two hours before the exact time he shot Steenkamp.
"No words can adequately capture my feelings about the devastating accident that has caused such heartache for everything who truly loved – and continues to love Reeva," the statement read.
"The pain and sadness – especially for Reeva's parents, family and friends – consumes me with sorrow. The loss of Reeva and the complete trauma of that day, I will carry with me for the rest of my life."
3 March 2014: Murder trial began
The trial opened at the high court in Pretoria, South Africa. Pistorius pleaded not guilty to the murder and to firearms charges. He told the court he denied the charges in the "strongest terms" and said he believed an intruder had broken into his home and was in the bathroom when he fired the shots.
A witness, Michelle Burger, told the court she heard "blood-curdling screams" and said she heard two people shouting – a man and a woman. "The fear in that woman's voice; you only fear like that if your life is threatened," she said.
7 April 2014: Pistorius took the stand
Pistorius stood up to give his own version of what happened in the early hours of Valentine's Day in 2013. After weeks of tears, retching and theatrics as the details of the shooting emerged, he took the witness stand and began with a tearful apology to Steenkamp's family and friends.
He said he had taken anti-depressants and sleeping pills since the shooting and told the court his religious faith had sustained him over the last 12-months. Pistorius also spoke about his fear and experiences of crime, saying he kept a pistol under his pillow.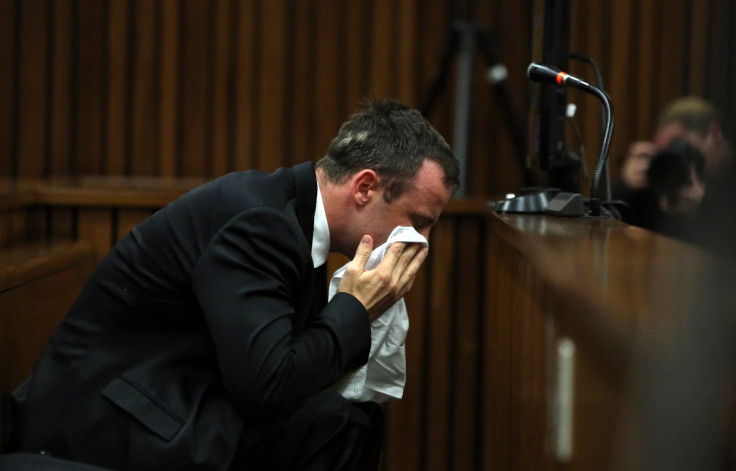 8 August 2014: Closing statements heard
The court wrapped up its closing statements. Barrie Roux, the defence advocate, said Pistorius's trial should have begun with a culpable homicide charge – equivalent to the law of manslaughter in the UK – rather than a murder charge. The defence said Pistorius should be acquitted and that the firing of the gun was reflexive and lacked criminal capacity. His defence said Pistorius had no motive to kill Steenkamp and that the shooting was "putative private defence".
The defence also highlighted the timeline of events of the shooting, saying that the state's version was inaccurate, while accusing state witnesses of lying to the court and stating the police disturbed the crime scene. Roux said Pistorius should be found guilty of a separate charge of firing a gun in a restaurant.
Prosecutor Gerrie Nel said Pistorius's two defences – self-defence and that he fired the shot involuntarily – were mutually exclusive and mutually destructive. He argued that messages exchanged via WhatsApp showed the couple were having problems and Steenkamp was "scared" of her boyfriend.
Nel also argued there were "significant incongruities" in the defence case, stating conflicting evidence about the position of fans and a duvet in the bedroom showed Pistorius was tailoring his evidence to conceal the fact that he knew Steenkamp was in the bathroom. He said Pistorius's action of retrieving the gun indicated premeditation.
11 September 2014: Pistorius was cleared of murder
Judge Thokozile Masipa cleared Pistorius of murder, saying prosecutors had proved he had not meant to kill Steenkamp. She added his actions were "negligent" and that a reasonable person would not have fired the shots. A few days later, Pistorius was sentenced to five years' imprisonment for culpable homicide.
17 August 2015: Appeal filed for murder conviction
South African prosecutors filed an appeal for Pistorius to be convicted for murder for the killing of Steenkamp. The appeal will be heard by the Supreme Court in November and, if found guilty, Pistorius could face a prison term of at least 15 years.
Steenkamp's parents have maintained their daughter was killed deliberately and said the time Pistorius is serving is "not long enough for taking a life".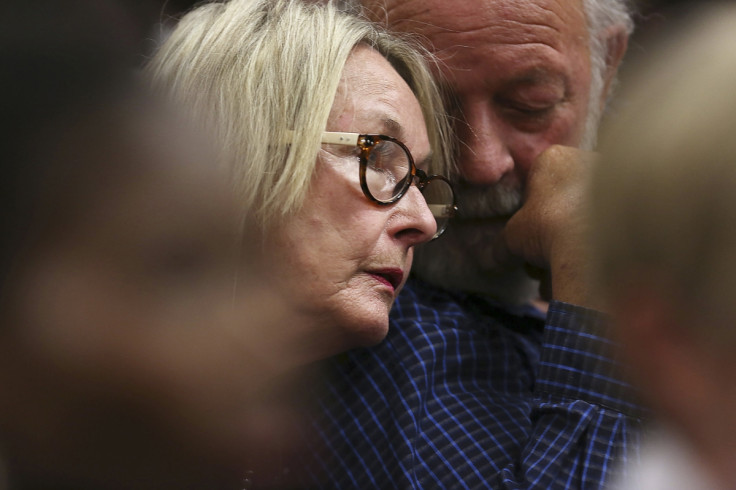 15 October 2015: Date for start of Pistorius's house arrest was set
The South African parole board announced Pistorius would be released to serve the rest of his sentence under house arrest, after spending 11 months in prison. Pistorius was originally due to be released in August under what is termed correctional supervision, but the decision was postponed over concerns the correct procedure in his case had not been followed. The release date is set for 20 October.
A South African Department of Correctional Services spokesperson said: "The Kgosi Mampuru II Correctional Supervision and Parole Board (CSPB) [has] approved the placement of offender Oscar Pistorius under correctional supervision as from 20 October 2015.
"The parole board met in Pretoria for the second time following a directive of the Parole Review Board, which set aside its earlier decision to place Oscar Pistorius under correctional supervision because it was prematurely made.
"The Parole Board has also given the offender his correctional supervision conditions, which include the directives of the Parole Review Board in respect of continued psychotherapy and prohibitions in line with the Fire Arms Control Act Section 103."
What is next for Pistorius?
Reports state the athlete will live under house arrest at his uncle's home in the Waterkloof suburb of Pretoria. The Parole Review Board has said he must be subjected to psychotherapy in order to address criminogenic factors of the crime he committed". If prosecutors manage to convince the supreme court of appeal to upgrade his sentence to murder, he could go back to prison.
Theoretically, Pistorius could return to his sporting career, as the International Paralympic Committee has said the athlete could resume his career once he has served his sentence. The South African Olympic Committee has said it has no regulations that bar athletes with a criminal record.
© Copyright IBTimes 2023. All rights reserved.