Gun fanatic Oscar Pistorius cancelled an order for a cache of new weapons one month after he killed girlfriend Reeva Steenkamp, the court dealing with the trial heard.
A two-page invoice detailed weapons the Paralympian ordered totalling five guns; two shotguns, a LM6 civilian assault rifle and two revolvers.
But firearms training and licensing officer Sean Patrick Rens told Pretoria's High Court the transaction was cancelled approximately one month after Steenkamp was gunned down by Pistorius at their home.
Rens, who declined to be filmed by courtroom cameras, also said Pistorius understood firearms laws and would have known that shooting an unseen target was illegal.
The court was told that part of the firearms licensing application involved Pistorius answering a questionnaire involving scenarios when intruders had entered his home.
The Paralympic gold medallist answered 'no' to a question asking if he could open fire on burglars stealing a hi-fi because his life would not have been in danger.
Deleted "intruder" tweet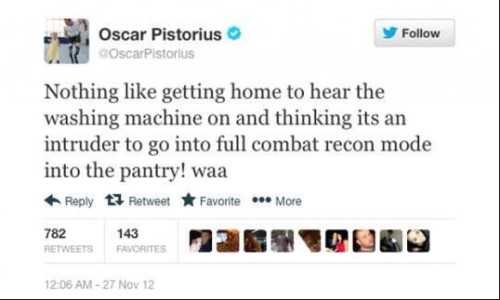 A deleted tweet has emerged seemingly describing how Oscar Pistorius went into "full recon combat" made when he suspected an intuder was in his home.
The tweet was posted on 27 November, 2012, less than three months before the sprinter shot dead Reeva Steenkamp.
Rens's short testimony was followed by that of police photographer Bennie Van Staden.
The officer, who has 21 years' experience in the South African police, with eight years in photographic, took the first photos of Pistorius in his garage after the shooting.
Photos of his bloodied prosthetics were also discussed as were ones of the cricket bat Pistorius claims he attempted smashing the bathroom door with.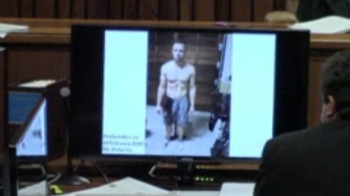 Van Staden, who took 15 albums of photos at the crime scene, admitted moving a duvet to get a better shot of splattered blood.
The graphic photos also showed a damaged door, blood-soaked towels, two iPhones and puddles of blood on bathroom tiles.
Pistorius pleaded not guilty to murdering Steenkamp and the trial continues.