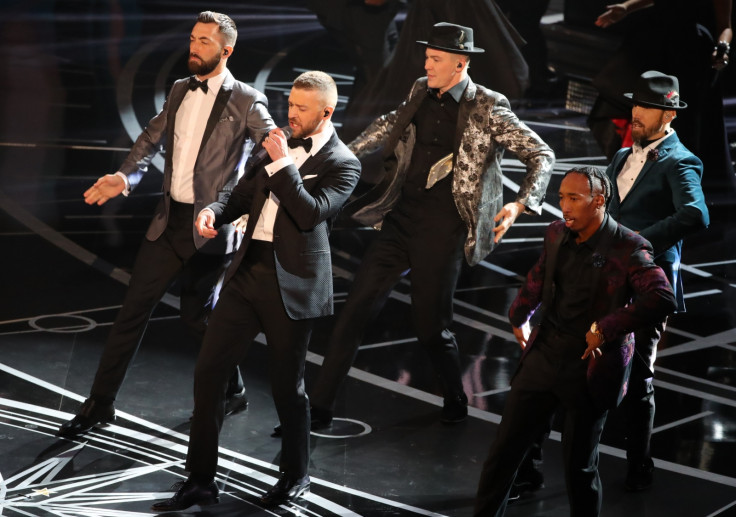 The Oscars 2017 audience were treated to some incredible performances last night (26 February). Justin Timberlake, John Legend and Lin Manuel-Miranda were among the musicians to have provided entertainment at the 89th Academy Awards.
Justin Timberlake – Can't Stop The Feeling
Hosted by Jimmy Kimmel at the Dolby Theatre in Los Angeles, the show opened with Justin Timberlake singing a rendition of his chart-topping single Can't Stop The Feeling. The 36-year-old began on the red carpet just outside the Dolby Theatre before making his way inside to find the star-studded audience on their feet.
Celebrities embraced the feel-good song with Octavia Spencer, David Oyelowo and his wife, Charlize Theron, Ava DuVernay, Naomie Harris, Janelle Monae, Brie Larson, Taraji P Henson, Nicole Kidman and Keith Urban among those dancing.
Engaging with the audience, Timberlake shared a dance with Halle Berry before high-fiving a thrilled Denzel Washington. The singer then ended on a high note with a rendition of Bill Withers' Lovely Day but not before sealing the performance with a kiss from his actress wife Jessica Biel.
John Legend – La La Land medley
Celebrating what was a triumphant night for La La Land – best picture gaffes aside – John Legend delivered a stunning medley of City Of Stars and Audition. The performance was introduced by La La Land's stars themselves, best actress winner Emma Stone and best actor nominee Ryan Gosling.
Stone said: "In Audition, my character starts talking about the aunt he inspired her and it speaks to all of those who have big dreams," while Gosling added: "City Of Stars was summed up perfectly by composer Justin Hurwitz, he described it both as hopeful and melancholy."
Legend, 38, seamlessly intertwined the two songs together while dancers, suspended against a star-lit backdrop, magically floated around recreating Stone and Gosling's dance sequence in the musical.
Sting – The Empty Chair
Accompanied by his guitar, Sting sang his ballad The Empty Chair, which appears on the soundtrack for documentary Jim: The James Foley Story. The performance closed with a photo of Foley and the caption: "If I don't have the moral courage to challenge authority... we don't have journalism." Foley was an American journalist who was captured in Syria and became the first US citizen to beheaded by Isis in 2014.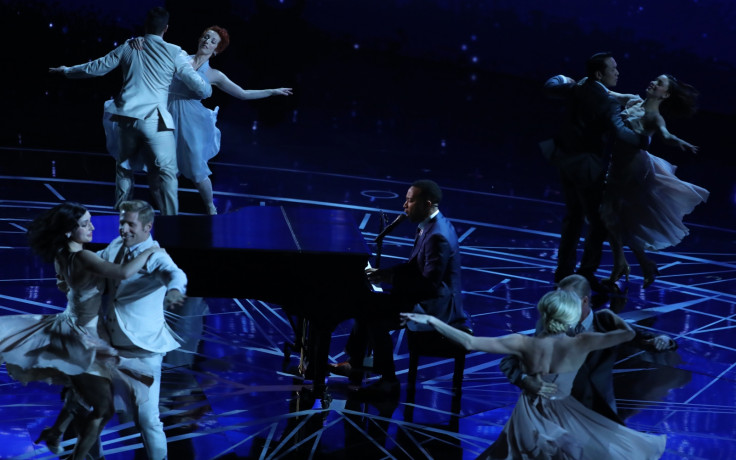 Addressing the sentiments of the song, Sting told Billboard: "The stakes are higher when you're writing about a person who really existed, a person with family and friends you want to honour. I'm glad I found the metaphor of the empty chair. I said no at first [when Ralph asked]. I said, 'This is beyond my powers'. I curated the song from what [Jim's] family and friends said about him. It's their song."
Sara Bareilles – Joni Mitchell cover
Following a tearful introduction by actress Jennifer Aniston, Bareilles sang a heartfelt cover of Mitchell's Both Sides Now during the in memoriam segment. Among those late actors remembered in the tribute included Carrie Fisher, Debbie Reynolds, Gene Wilder and Prince. Aniston also made sure to mention Titanic star Bill Paxton, who died on 25 February.
Lin-Manuel Miranda – How Far I'll Go
It would be wrong not to have Lin-Manuel Miranda gracing the Oscars stage. The Hamilton star remixed How Far I'll Go from Moana with an epic opening rap before the Disney film's star Au Li'l Cravalho arrived to perform the rest of the ballad. Unfortunately, How Far I'll Go lost out on winning the best original song to La La Land's City Of Stars, but their performance was standout.